October 23, 2013
Justin Gillis, New York Times reporter, to speak on climate change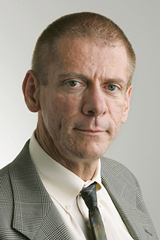 Award-winning New York Times reporter Justin Gillis will visit Kansas State at 7 p.m. Tuesday, Oct. 29, in the K-State Student Union's Forum Hall for the public lecture "2044: What Will It Really Be Like?"
Gillis' lecture is the third event sponsored by the K-State Book Network in conjunction with the 2013 selection, Ernest Cline's "Ready Player One." Cline's novel takes place in the years 2044 and 2045, providing an opportunity to consider what our world might be like at mid-century.
In his reporting for the New York Times, Gillis covers environmental science with a special focus on climate change. He was the author of a Times series called "Temperature Rising" that ran from 2010 to 2013 and updated readers on major developments in climate science. The early articles in that series won the John B. Oakes Award for Distinguished Environmental Journalism from Columbia University in 2011.
Gillis has held his present position since 2010. Previously, he served for three years as a Times editor in charge of the paper's energy and food coverage. He also was the architect and principal editor of the "Food Chain" series about the global spike in food prices in 2008. He led the paper's coverage of the oil-price spikes of that same year.
Gillis' visit to Kansas State is funded by the New York Times in the Classroom program and co-sponsored by KSBN and K-State First.
For more information about KSBN, visit http://www.k-state.edu/ksbn/.