October 17, 2013
New men's basketball student-athlete: Brandon Bolden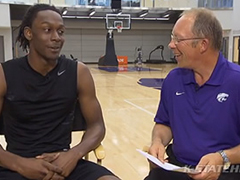 Adding some much anticipated height to the Wildcat men's basketball team, 6-feet-11-inch tall sophomore forward Brandon Bolden is glad to be in Manhattan.
Once he got to know the coaches, the Georgetown transfer from Sumter, S.C., said he knew K-State was the place for him.
"Talking to Coach Frazier and Coach Weber almost every day — I talked to Coach Frazier literally every day when I was trying to figure out where I was going — really played into my decision to come here," Bolden said.
Though Bolden will have to sit out the upcoming 2013-14 season under NCAA transfer rules, he knows in the long run he made the right choice to play at K-State. Along with his height, he will bring a lot of talent to the court.
"I think I'll bring a lot of diversity for a tall guy to shoot, run the floor, block shots," Bolden said. "I think I'll bring a lot of athleticism to the team next year."
His freshman season at Georgetown, Bolden helped the Hoyas to a 25-7 overall record and a share of the Big East title with a 14-4 conference record.
"With such a large incoming freshman class, we really wanted to add a more experienced player to our team, plus we needed someone with his kind of size and length," K-State head coach Bruce Weber said. "I think the year off will be great for Brandon to not only develop and improve his game, but also to get stronger in the weight room. He will be a great asset this season just as a practice player to make our guys better."
As a senior at Quality Education Academy High School in Winston-Salem, N.C., Bolden and new K-State incoming freshman Jevon Thomas led the Fighting Pharaohs to a 23-6 overall record and a 10-1 record in league play. Bolden's senior season, 2011-12, he was ranked the No. 14 center in the country and the No. 81 overall player in the Class of 2012 by Rivals.com.
"I went to high school with Jevon, and a lot of people didn't know that," Bolden said. "My senior year I played with him, and that kind of played a little role in my choosing to come here too."
Heavily recruited out of high school, Bolden chose Georgetown over offers from Baylor, Florida, Georgia, Virginia, VCU and Virginia Tech.
About the Big 12 Conference, Bolden said, "I know there's a lot of pros that came out of the Big 12, but other than that, I don't know much. I just knew I was ready to come to K-State."
And when it comes to rivalries, Bolden knows a thing or two, and during his time at K-State, he said he is looking forward to being a part of the Sunflower Showdown.
"I know a lot about the K-State and KU rivalry," Bolden said with a smile. "I know a little about rivalries since I'm from South Carolina, so there's South Carolina/Clemson, that's a big one, and Georgetown/Syracuse is a big one. This, K-State/KU, is just like that, if not better."
With this season just around the corner, Bolden hopes to work as hard as he can helping his team off the court, so when it's his turn to play, he will be well prepared.
"A goal for me at K-State would be to go as far as we can at the tournament and do whatever it takes to win," Bolden said. "Be however good I have to be for us to win, everything else doesn't matter."
K-State men's basketball opens its 2013-14 campaign on Nov. 1 against Pittsburg State at 8 p.m. in Bramlage Coliseum.
Also, don't miss Madness in Manhattan at 8:30 p.m. — doors open at 8 p.m. — on Oct. 25 in Bramlage Coliseum. The event is free to the public and, in addition to performances by the K-State pep band, Willie Wildcat and the Classy Cats, there will be comments from Weber and women's basketball head coach Deb Patterson.
You can click here for more info on Madness in Manhattan.
K-State faculty and staff receive discounted season tickets and can also use the payroll deduction option to spread their ticket costs over multiple pay periods. For questions, contact the K-State Athletics ticket office at 1-800-221-CATS or visit kstatesports.com.
Click here to watch the video interview with Bolden.