October 17, 2013
K-State's sesquicentennial celebration concludes with grand finale on Oct. 24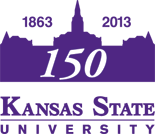 K-State's nine-month sesquicentennial celebration will conclude with a grand finale from 3-5 p.m. Thursday, Oct. 24, on the Anderson Hall lawn. Official remarks will begin at 4:15 p.m.
Check out the 150th time capsule contents, enjoy Call Hall's celebration flavor, Wildcat Birthday 150, receive free giveaways, listen to the Pride of Wildcat Land Marching Band and join with us as remarks from President Kirk Schulz and sesquicentennial chair Jackie Hartman are shared with the crowd.
This event is free and open to the public. Help us celebrate 150 years of accomplishments at Kansas State University!