October 17, 2013
K-State Libraries celebrating Open Access Week 2013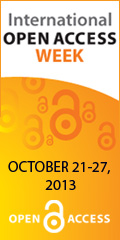 K-State Libraries will again participate in the international celebration of Open Access Week, taking place Oct. 21-27. This global event organized by the Scholarly Publishing and Academic Resources Coalition is in its sixth year. The event aims to inspire wider participation in open access initiatives by offering the scholarly community the opportunity to learn about open access and share experiences with colleagues and the public.
This year two webinars will be hosted on Tuesday, Oct. 22, in 401 Hale Library. The first, from 1-2:30 p.m., is sponsored by the Association of College and Research Libraries, and features Ada Emmett, head of the office of scholarly communication and copyright at the University of Kansas, and Suzanne Kriegsman, program manager in the office for scholarly communication at Harvard University.
Emmett and Kriegsman will describe the elements of an effective open access policy, explain why each is important, and detail the process for moving a policy forward on campus. Webinar participants will have the chance to ask questions of the presenters, and questions at all levels of experience with open access are welcome.
The second webinar is from 2:30-3:30 p.m. and is sponsored by the North American Serials Interest Group. Lead by Jeffrey Beall of the University of Colorado-Denver, this webinar will provide an overview of the issues related to scholarly open access publishing, focusing on unintended consequences of predatory publishers and abuses of the gold open access model.
Both webinars are free and open to all K-State faculty, staff and students. Refreshments will be provided. No registration is required to attend either or both webinars.
For those unable to attend but interested in learning more about open access generally, follow the Libraries on Twitter, @kstatelibraries, during the week to get facts, videos and links to more information about open access. You can follow the Libraries' updates at the linked page without needing to have a Twitter account of your own.
Questions about the events or the Libraries' open access philosophy can be directed to Jenny Oleen, scholarly communications librarian.