October 17, 2013
The office of international programs' English language program opens new International Technology Commons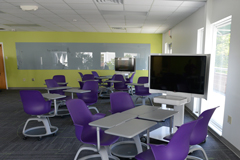 Provost April Mason dedicated the English language program's new International Technology Commons on Oct. 1.
The commons is at 1800 Claflin Road, Suite 204. The commons replaces the lab on the second floor in Fairchild Hall. The hours are 8 a.m. to 9 p.m. Monday-Thursday, 8 a.m. to 6 p.m. Friday and 2-6 p.m. Saturday and Sunday.
Speaking to an overflow crowd, Mason recognized that the International Technology Commons demonstrates the sustained commitment to advancing international education at K-State and moves the university closer to its goal of being a Top 50 public research university by 2025. Mason also pointed out that K-State just experienced its largest international enrollment ever, with 2,106 students from more than 100 countries this semester.
Marcelo Sabates, interim associate provost in the office of international programs, welcomed the crowd and provided an overview of how international students at K-State increase diversity and enrich our classrooms with multiple perspectives. He indicated that annually about 400 international students first experience K-State by participating in the English language program. He continued by saying that modernizing campus with technology enhancements such as the International Technology Commons will serve students by helping them improve their proficiency in English and elevating the student and faculty language experience.
Mary Wood, director of the English language program, discussed the increasing enrollment of the university's program throughout its history and that the Council on English Language Program Accreditation, or CEA, recently granted the university's English language program a 10-year accreditation — the longest period of accreditation possible.
K-State was the only program granted 10-year accreditation at the commission's June 2013 meeting. Wood also recognized the first K-State English language program director, Enid Locke, who was in the audience, and praised Jenell Williams, lab director, for her vision.
Williams, responsible for the direction and implementation of the new space, said that the new commons would engage students to nurture their skills, inspire teachers to be innovative in applying technology to pedagogy and provide accessible technological resources. Williams also thanked facilities and technology partners as well as the students and teachers who tested the furniture and devices, and provided feedback as decisions were made in the design and construction of the space.