October 14, 2013
Latin American Film Series presents 'House of Sand'
Submitted by Yaritza Maria Sanchez Gil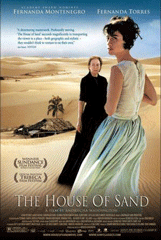 The Latin American Film Series presents "Case de areia" or House of Sand at 7 p.m. today in K-State Student Union Forum Hall.
The director of the film is Andrucha Waddington, Brazil. It was filmed in 2006. It is 115 minutes long and rated R.
The movie is about a Brazilian family saga spanning over 59 years that focuses on three women: grandmother, mother and daughter. The roles of these women are played by two of the most popular actors in Brazilian cinema: Fernanda Montenegro and Fernanda Torres, who are real-life mother and daughter.
In 1910, Doña Áurea and her mother Maria find themselves in Maranhão, a godforsaken desert in northern Brazil. For them, it is a prison of sand from which there is no escape. Áurea's only confidante is Massu, who lives in a nearby community of runaway slaves. Áurea's desire to see the world lives on in her daughter, young Maria, who attempts to rebel against their bleak surroundings, but even she may never be able to shake off the sand of Maranhão.