October 14, 2013
Wacom interactive pen media now available in Media Development Center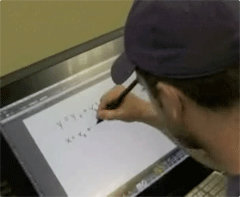 Two Wacom Interactive Pen Display units have been added to the Media Development Center, 213 Hale Library. Artists will love the pressure sensitivity and ability to vary the width and opacity of the line. Faculty will value using the Cintiq like a whiteboard — drawing equations, erasing — and recording the session with a screen-capturing program.
All K-Staters can use the Wacom Cintiq 24HD Interactive Pen Display situated in the MDC lab. A grip pen, available from the Media Development Center consultant, allows drawing directly on the interactive display. The pressure-sensitive pen can be used with any drawing program including Photoshop. The active area measures 20.4 inches x 12.8 inches. The tablet acts as a drawing device, and the image can be saved to whatever drawing program is used.
Faculty can check out and use a Wacom Cintiq 13HD 13.3-inch Interactive Pen Display attached to a MacBook Pro laptop. Equations and computations can be written and developed directly on the display using a drawing program. The session can be recorded using Camtasia for a PC or Screenflow for a Mac for uploading to K-State Online.
Consultants in the Media Development Center are available to teach how to use this device and answer any questions. To reserve the faculty-use Cintiq pen display, call 785-532-4921.