September 30, 2013
Geology professor publishes article examining effect of carbon dioxide on chemical, biological processes in aquifers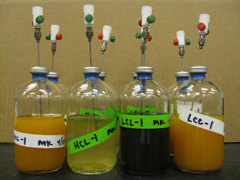 Matthew Kirk, assistant professor of geology, recently published an article in the journal Geochimica et Cosmochimica Acta, volume 122, pages 198-208, which examines how an increase in carbon dioxide abundance could affect microbial activity in aquifers.
The study showed that an increase in CO2 abundance could trigger a shift in microbial activity in aquifers with low oxygen abundance. This shift is important to understand because it would affect the ability of aquifers to store carbon as well as the quality of drinking water within them. Potential future causes of increasing CO2 abundance in aquifers include geological carbon storage, a strategy that may be used to help limit accumulation of greenhouse gases in the atmosphere.
Kirk, along with co-authors, performed the experiments while working as a postdoctoral researcher at Sandia National Laboratory. The study was funded by the Center for Frontiers of Subsurface Energy Security, an Energy Frontier Research Center funded by the U.S. Department of Energy, Office of Science, Office of Basic Energy Sciences under Award Number DE-SC0001114.
Results from the study were recently presented in invited seminars at the Center for Biofilm Engineering at Montana State University on Sept. 19 and the K-State Division of Biology on Sept. 26.