September 30, 2013
K-State Libraries celebrates 3 million volumes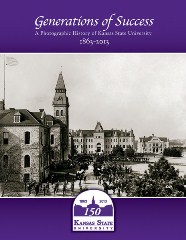 Provost April Mason will officially accept the 3 millionth volume to be acquired by K-State Libraries, "Generations of Success: A Photographic History of Kansas State University 1863-2013" at a special joint celebration of K-State Libraries and K-State's sesquicentennial from 3:30-5 p.m. Oct. 7 in Hale Library's fifth floor gallery and Hemisphere Room.
Selected for its connection to K-State's sesquicentennial, "Generations of Success" was authored by Cliff Hight, university archivist, and Tony Crawford, curator of manuscripts, both of the K-State Libraries' faculty.
"This acquisition is particularly appropriate as we close the celebration of K-State's sesquicentennial year," said Lori A. Goetsch, dean of libraries. "We're proud not only to have the book in our collection, but also that our libraries faculty were responsible for its content."
This event also will serve as a book release party. Attendees may enter to win a copy, or purchase copies to be signed by the authors. Refreshments and the chance to view K-State Libraries' companion exhibit will follow the provost's remarks.
The event is free and open to the public. For more information about the book, to order a copy for delivery, or to see other K-State sesquicentennial commemoratives, see the merchandise section of the K-State sesquicentennial website. For more information about the libraries' event, contact Darchelle Martin.