August 27, 2013
Key information technology resources for faculty, staff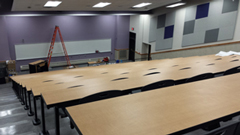 Here's a back-to-school primer on key information technology resources that were updated and/or services added over the summer. Grab a cup of coffee, sit back and learn more about campus information technology tools to make your work life easier.
eID rolling passwords — Good news; now K-Staters have their own individual password expiration dates, instead of set password-change periods. And you'll receive an email when your eID password needs to be changed, which is every 180 days.
K-State Survey powered by Qualtrics is the university's comprehensive survey tool with about 100 question types, simplified reporting tools and more. Axio Survey is being phased out. Use the Qualtrics quick reference on how to build a survey.
NVivo campus site license — This qualitative and mixed-methods data analytics software allows you to collate, organize, and manage a range of digital data — audio files, videos, photos, texts, data sets — extract limited data from dedicated social media platforms and more.
K-State Online — The campus learning management system is a powerful set of tools to deliver engaging and interactive online classrooms. K-State Online was updated this summer to allow easy printing of course schedules. Quick reference guides are available from the information technology training site.
Zoom videoconferencing — A campuswide site license now allows all K-Staters to videoconference from the office, residence hall, home, etc., with up to 25 others. Link to Zoom.us and create an account with your K-State email address.
Technology classrooms — Five general-use classrooms have been added over the summer, for a total of 107 technology classrooms.
Connect page — This interactive dashboard, with eID and password sign-in, provides one-stop access to key K-State services, including email, eProfile, K-State Online and the Human Resource Information System, or HRIS.
IT Help Desk — Is the first point of contact for computing and technology answers. Email helpdesk@k-state.edu, call 785-532-7722, or visit 214 Hale Library.
For more information technology resources and services, see the Welcome to information technology at K-State webpage or the information technology services homepage.
Keep up on what's happening in information technology at K-State by using these channels:
IT News blog — Technology news, tips and tools for the K-State community. Bookmark the website or subscribe to receive posts by Twitter or email.
Twitter — Tweets from the IT Help Desk