August 27, 2013
College of Education's 'Military Life' video to premiere on Sept. 11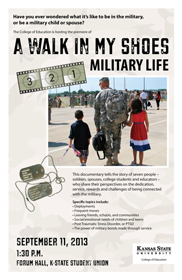 A decision to help preservice teachers better understand the needs of military-connected students has grown into a documentary with campuswide, statewide and national implications.
The College of Education produced "Military Life," the second installment in its video series "A Walk in My Shoes," which premieres at 1:30 p.m. Wednesday, Sept. 11, in Forum Hall in the K-State Student Union. The public is invited to attend. Click here to view the trailer.
"Sept. 11 is forever etched in American history," said Debbie Mercer, dean of the College of Education. "On this important anniversary and through this documentary, we will look deeply into the lives of service members who have strengthened us as a nation. This time, their efforts will help us strengthen schools across America."
At the premiere, a K-State ROTC color guard will present the colors, and local military children will lead the Pledge of Allegiance. Art DeGroat, the university's director of military affairs and a retired Army lieutenant colonel, will welcome attendees.
"After living my adult life in the military, and now serving over a decade as a higher education professional working with the military, I find nothing as accurate, moving and instructive as this film to impart the essence of the lives these special people choose to live," DeGroat said. "Their challenges to resocialize into the public after their service are brought to light in this film. This masterful work will offer its viewers a rare insight into their lives and help inform professional educators how to better serve their educational and life needs."
Following the 40-minute film, four panelists will briefly explain their programs' support of the military. The panel members from K-State are: Suzanne Lueker, the Veteran Center's director of nontraditional and veteran student services; and Elaine Johannes, director of Kansas Operation Military Kids and associate professor of family and human studies. Panel members from the area are: Jennifer Dixon, educator for the Military Child Education Coalition's Parent to Parent program; and Ron Walker, superintendent at Geary County USD 475. Sandy Risberg, instructor and coordinator of the College of Education's Military-Connected Student Education program, will serve as facilitator.
In 2012, the College of Education became part of Joining Forces' Educate the Educator program and hired Risberg. This video was a natural extension of her work, and she identified the video participants — current education students, military spouses and parents and education specialists — to give a full picture of what life is like inside the military. In addition to Risberg's work with preservice teachers, she offers professional development training for in-service teachers and school personnel.
"Sandy's insight, network of contacts and tireless commitment to bettering the lives of military-connected children have brought this issue to life in our college," Mercer said. "Not only can we share this video with our preservice teachers, we can share it with anyone who interacts with the military or their family members."
Classes are welcome to attend. Please send a courtesy RSVP to Risberg at sandyr@k-state.edu.