August 8, 2013
Entomologist Zhu part of award-winning project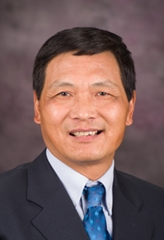 Entomologist Kun Yan Zhu is an active participant in the Western Region Regional Project that was selected as the 2013 winner of the Western Region Excellence in Multistate Research Award.
The project was selected as the best out of 34 Western Region regional research projects. The Western Association of Agricultural Experiment Station directors presented the award in recognition of the excellent productivity and outputs of regional multistate project W-2045, "Agrochemical Impacts on Human and Environmental Health: Mechanisms and Mitigation."
The participants in the project are actively researching solutions to managing agricultural pests using chemical tools that have minimal environmental and human impact, and on reducing risks of harmful chemicals in food and fiber production systems.