August 8, 2023
Community visit spotlight: Southeast Kansas organizations use innovative tools to teach students about nutrition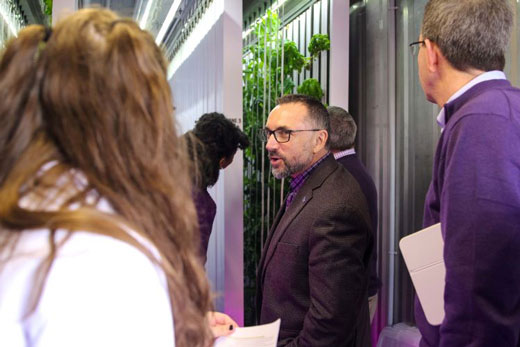 Thomas Lane, vice president of student life and dean of students, engages with Pittsburg High School students about their hydroponic farm during the Crawford County visit. Photo credit: Sidney Lira, PHS Publications.
Students in southeast Kansas school districts are gaining a new set of skills, thanks to agricultural education programs and nonprofit partnerships.
K-State's Crawford County regional community visit highlighted how southeast Kansas is taking on the challenge to increase fresh, nutritious and locally grown produce through an innovative pathway in schools: hydroponic farming.
Hydroponics is a method of growing plants using mineral nutrient solutions in water without soil. Hydroponic farms can be used in places where in-ground agriculture or gardening is not possible, such as schools.
Community Green Farms, a nonprofit in Pittsburg, recognized the opportunity to introduce children to nutritious foods through a hydroponic farm. They believed students would develop healthier habits and skill sets that could be passed on to future generations.
"Partnering with schools is proving to be an incredibly impactful way to provide nutritious foods to those who may not yet be familiar with them and the important role schools play in helping someone achieve their full health potential," said Matt O'Malley, executive director of Community Green Farms.
O'Malley knew that Pittsburg High School was the right location for the placement of their first farm classroom.
"Not just because it is where our office is located, but because of the strong district leadership who educate with the spirit of willingness to experiment with a unique educational tool," O'Malley said.

Hydroponic farms in the school system allow students to be exposed to different terms such as water nutrients, locally sourced, marketing and much more.
"We knew that the farm classrooms would educate students about agriculture and nutrition while providing school districts with a new source of student-grown produce," O'Malley said. "What we did not expect were the multiple curricula beyond STEM that would be incorporated into farm management."
Aubry Ross, Pittsburg High School science teacher and farm coordinator, talked about how the Pittsburg High School's Dragon Farm program opened a new world to students.
"In addition to the agriculture experience, Dragon Farm exposes students to business practices, including marketing, money management and sales," Ross said.
Dragon Farm students engage in their broader community by selling produce at the farmers market and donating it to local shelters.

"Students are utilizing the business, marketing and design skills they are being taught to create legitimate plans for sustainability, sell their harvests at the farmers market, design logos and really impress everyone in the community with their ownership of the project," O'Malley said.
During the community visit, Dragon Farm students, Pittsburg High School staff and surrounding area superintendents discussed the challenges and advantages of installing hydroponic farms in school districts.
"Dragon Farm has grown beyond our initial ideas of solely providing for our cafeteria," Ross said. "We can see how this technology could be the next wave for small businesses — just think of your favorite local sandwich shop growing its own lettuce and greens harvested and used that day.
"Students are proud of the work that they do and the people it benefits," Ross added.
Dragon Farm students and staff expressed how their farm has become part of the culture at Pittsburg High School. They also described the need for greater collaboration among higher education institutions and districts that incorporate hydroponic farms into their schools.
"Universities play a key role in the Dragon Farm operation by cultivating research partnerships for high school students to have real-world experiences as well as providing training opportunities for educators to learn more about hydroponics to increase teacher efficacy," Ross said. "Vertical hydroponics is the next generation of agriculture. Students involved in this program are exposed to techniques that will feed their future."
K-State recognizes the need to explore the multifaceted world of agriculture. Two prominent researchers, Teng Yang, a teaching assistant professor specializing in controlled environment agriculture at K-State Olathe, and Manreet Bhullar, a research assistant professor focusing on produce safety in horticulture and natural resources, are completing several research studies related to the microbial safety of hydroponics production. These studies explore reducing food-borne pathogens in hydroponic production systems.
The Kansas Foundation for Agriculture in the Classroom, or KFAC, an affiliate program of K-State, is also developing and piloting a tower garden curriculum in partnership with the K-State Rural Education Center. KFAC is a statewide educational program that provides resources, training and support to schools, educators and volunteers to meaningfully connect children to agriculture. The project would lead to curriculum development and professional development opportunities for teachers in this field within Kansas and beyond.
Explore K-State's regional community visits and engagement partnerships through our StoryMap or find complete information about regional community visits. K-State faculty, staff or students who are interested or currently immersed in university-community engagement work can contact the Office of Engagement for opportunities to begin or grow scholarly work.