June 6, 2023
Colleen White launches Scheherazade Music Festival June 14-16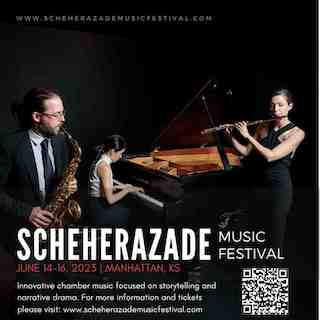 The inaugural season of the Scheherazade Music Festival, launched by music faculty member Colleen White, will take place from June 14-16 at Prairiewood's Blue Sage Barn and Chapman Theatre on the K-State campus.
The Scheherazade Music Festival will begin with the Gala Opening Concert on Wednesday, June 14, at Prairiewood's Blue Sage Barn. Doors open at 5:30 p.m. and the concert begins at 7 p.m.
The music festival presents chamber music with narrative drama, excitement and personal perspectives in Manhattan. This year's theme is "Roaring 20s" and features innovative chamber performances of music written in the 2020s, 1920s, etc., plus a gala cocktail hour, costume contest, and children's musical storytime events.
This music festival brings the community together for live performances with high-caliber musicians from across the country sharing new and unique stories. The 2023 artist roster includes Yamaha performing artists, operatic singers, instrumentalists who have performed at Carnegie Hall, K-State music faculty members and chamber music collective, Music in the American Wild. For more information, visit scheherazademusicfestival.com
K-State faculty and students can attend the opening concert for 50% off with this link.