May 8, 2023
University selects 'They Called Us Enemy' as 2023 K-State First Book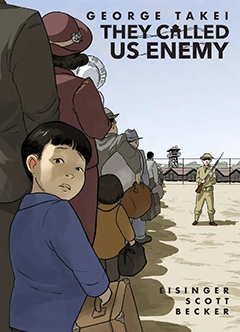 The 2023 K-State First Book — the Kansas State University common book for the upcoming academic year — will be "They Called Us Enemy" by George Takei.
K-State First Book will celebrate the 2023 selection in the fall semester with multiple events. More event information will be shared as details are finalized.
"They Called Us Enemy" is an illustrated memoir that Takei co-wrote with Justin Eisinger, Steven Scott and artist Harmony Becker. The story provides a window into the Japanese internment camps of World War II through the eyes of Takei and his family. It offers Takei's firsthand account of those years behind barbed wire, his mother's hard choices, his father's faith in democracy, and the way those experiences planted the seeds for his astonishing future.
"George Takei's award-winning graphic memoir will offer our students and campus an opportunity to learn more about Japanese American incarceration during World War II," said Greg Eiselein, professor of English and director of K-State First. "It is an incredibly absorbing and emotionally powerful reading experience."
K-State First Book, the all-university reading program that is part of K-State First, selects a common book for the academic year and coordinates classroom and campus activities to correspond with the reading. K-State First Book provides incoming students with a shared academic experience that they can discuss with professors, staff, administrators and other students when they arrive on campus. Participation in the K-State First Book program is voluntary.
"The New York Times bestseller, 'They Called Us Enemy,' will empower the Kansas State University community to engage in perspective-taking, particularly as we celebrate Asian American and Pacific Islander Heritage 365 at Kansas State University," said Rana Johnson, vice president for diversity, equity, inclusion and belonging. "I am looking forward to participating in this very important read by George Takei with colleagues across the K-State community."
The 2023 First Book Selection Committee — comprised of 30 students, staff, administrators and faculty from two campuses — spent the last six months reading 29 books on the theme of books that share an authentic voice.
"The selection committee was excited to finally have a graphic novel as our common book," said Tara Coleman, chair of the K-State First Book selection committee and associate professor at K-State Libraries. "We appreciate being about to connect with folks who may find a graphic novel more accessible than a traditional book and to talk about visual literacy along with the other important themes from the novel."
K-State First Book will partner with several university and community organizations to coordinate programming for the 2023 common book. Programming partners so far include the Marianna Kistler Beach Museum of Art; the Department of English in the College of Arts and Sciences; the Office of the Vice President for Diversity, Equity, Inclusion and Belonging; the College of Education; the College of Architecture, Planning & Design; the College of Agriculture and the Minorities in Agriculture, Natural Resources and Related Sciences, or MANRRS, chapter; the College of Veterinary Medicine; the College of Health and Human Sciences; K-State Libraries; the Staley School of Leadership; UFM Community Learning Center; and the Manhattan Public Library.
"The 2023 book selection allows us to continue conversations from the past 13 years of K-State First's common reading program as we explore themes connected to community, family, history, citizenship and memory," said Karin Westman, chair of the K-State First Book PR/events committee and department head of English. "With the help of our campus partners, we're looking forward to a great range of in-person and online programming."
Programming partners will plan a lecture, panel or other kind of event that draws on the expertise of that group to help the university community experience "They Called Us Enemy" in a new way. K-State First Book will provide publicity support for the event, and programming partners will receive two copies of the 2023 selection to share within their group in advance of the fall semester.
Interested departments or groups should contact ksbn@k-state.edu no later than Saturday, May 20, if they would like to join this effort for the 2023 selection.
More information about the K-State First Book program, the 2023 book selection and resources for its inclusion in fall activities and classrooms is available at the K-State First Book website, k-state.edu/ksfb.