June 14, 2013
Yoder receives Friend of the Year award from Boys State of Kansas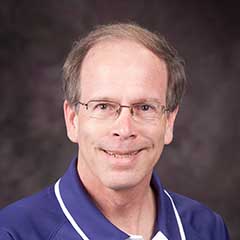 The American Legion Boys State of Kansas honored David Yoder, coordinator of conference services in housing and dining services, with the 2013 Friend of the Year award.
At a ceremony on June 8, Yoder was presented with the award in recognition of his efforts to assist the organization with their annual Boys State Leadership Academy, now in its 22nd year on the K-State campus. Boys State works with conference and guest services to secure housing, meals and other accommodations for hundreds of participants during the academy.
"David has been integral to the success of the program for two decades," said Rex Gardner, Boys State of Kansas executive director. "His knowledge, experience and willingness to help in any capacity — even during the off season — have allowed us to provide our participants with the best possible experience."
Gardner went on to praise the sense of humor and expertise with which Yoder hosts the academy, adding that Yoder will "always be remembered as one of our best friends."
Boys State is a program that was created in 1935 to teach male high school students about leadership as it pertains to the political process. The organization accepts applications from 450 to 550 students each year, who gather each summer at the academy to participate in a weeklong two-party government simulation. Delegates follow a role-play model that allows them to experience such civic procedures as electing officials and making laws firsthand.