June 12, 2013
K-State Olathe to host retirement reception for Dan Richardson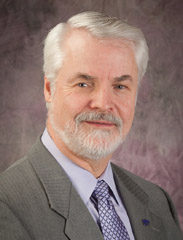 K-State Olathe will host a retirement reception to honor CEO Dan Richardson from 4-6 p.m. June 27. All K-State faculty and staff are invited to attend.
In 2008, Richardson began serving as chief executive officer of K-State Olathe. He was instrumental in the legislation and passing of the 1/8 cent sales tax initiative that led to the building of K-State Olathe, as well as buildings for KU Edwards and KU Medical Clinical Research Center — the three entities together forming the Johnson County Education Research Triangle, or JCERT. This innovative and collaborative effort has brought a monumental and undeniable presence to the Animal Health Corridor, which stretches from Manhattan, Kan., to Columbia, Mo.
As K-State Olathe's CEO, Richardson has had general oversight of the first building on the campus, a 108,000 square feet, LEED-Silver Certified facility, which opened in April 2011. He has worked across disciplines to develop graduate degree programs, recruit faculty and build relationships with industry. Under his leadership, six graduate degree programs have begun on the campus: adult and continuing education, horticulture with an emphasis in urban food systems, food science, veterinary biomedical science, biological and agricultural engineering, and agribusiness-animal health cohort. A sensory and consumer research center has opened, along with the Urban Water Institute, U.S. China Center for Animal Health and a thriving K-12 outreach program, which alone has reached more than 9,000 students and teachers since 2008.
Please RSVP to Terri Bogina by June 14 at tbogina@k-state.edu or 913-307-7304 to attend the reception.