March 29, 2023
Participate in world's longest corn puff attempt at All-University Open House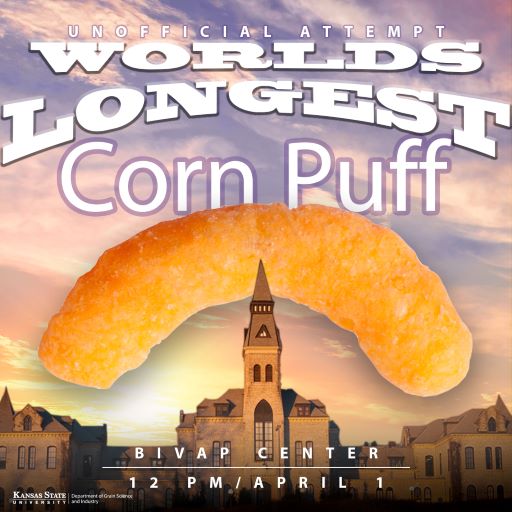 This year for the All-University Open House on April 1, the grain science and industry department will attempt to set a record for the world's longest corn puff.
Trials will take place at the top of the hour — 10 a.m., 11 a.m., noon, 1 p.m. and 2 p.m. — at the Bioprocessing and Industrial Value Added Products Extrusion Lab at the North Grain Science Complex, across from the K-State Rowing Center. The lab will also be making healthy corn puffs all day with a variety of seasonings available. Stop by and participate in the healthy snack challenge and spice your own corn puffs.
The Feed Science and Milling Science Clubs will host tours of their pilot processing facilities, also in the North Complex, and a free smoked sausage and hot dog lunch will be provided from 11 a.m. to 1 p.m. Kids will enjoy playing Plinko and riding the Grain Train.
In Shellenberger Hall on the Manhattan campus, there will be baked goods and the Milling Science Club's mixes for sale, and visitors can learn about the flour milling process. Kids can learn about different grains using sensory tubs and take home a mug cake to bake. Help make EPAW Crunchers dog biscuits and take some home for your pooch. In the Bakery Lab, learn to shape pretzels and see large-scale baking equipment.
Guests can also take photos with a box of donuts and large bag of Willie's Pride Flour.