March 27, 2023
Vibhavari Jani honored with IDEC Community Service Award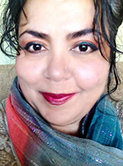 Vibhavari Jani, professor of interior architecture & industrial design in the College of Architecture, Planning & Design, or APDesign, at Kansas State University, is being awarded the 2023 Interior Design Educators Council Community Service Award.
The award is being given for Jani's many community service projects, including Hurricane Katrina and Rita community design projects in Louisiana, her work assisting school districts in Michigan, South Carolina and Kansas, and the wounded soldiers community from 2011-present. She is also a 2021 Kansas City Design Center K-12 Faculty Fellow, 2019 Civic Engagement Fellow and 2016 Leibrock Universal Design Fellow.
Jani was trained as an architect, interior designer, painter, singer and dancer, and she holds a graduate degree in interior architecture and a bachelor's degree in architecture. With more than 22 years of practice in the United States, she has served the architecture and interior design industry in executive and administrative capacities and designed and managed large, $100 million, projects for major corporations, health care, education, government and hospitality clients.
As an academic in the department of interior architecture & industrial design, she enjoys working with students and engages them in creative, interdisciplinary, collaborative service-learning projects. Her research efforts, conference presentations and publications have addressed a range of issues, including the contribution of non-Western cultures in the field of architecture and design, influence of collaborative efforts in architecture and interior design education, sustainability and green design, and the influence of innovative technology and how it is impacting the interior design curricula.
"The outreach that Vibha has helped lead in collaboration with our faculty and students is remarkable," said Nathan Howe, professor and department head of interior architecture & industrial design. "This work has exemplified the heart of our land-grant mission and highlights why design matters. It stimulates and helps form a positive agent of change that educates our students while also serving our communities. This recognition of Vibha's career in community service is well deserved."
Comments from the Interior Design Educators Council Awards Committee reflect the impact of Jani's community service to the interior design community at large: "I am impressed by the depth and breadth of work completed by this single individual to support so many different communities of individuals using design as the catalyst for change."
"This award is meaningful for me because I do these community projects as my tribute to my parents' lifework with larger rural education, health and other initiatives in the state of Gujarat," Jani said.
Jani's award was presented at the council's Annual Conference in Vancouver, British Columbia, during the awards event on Friday, March 10.