March 27, 2023
Morris and Arrington to perform at International Double Reed Convention in Bangkok, Thailand
Submitted by School of Music, Theatre, and Dance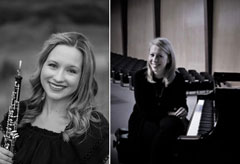 K-State music professors Alyssa Morris, assistant professor of oboe, and Amanda Arrington, senior professor of practice: piano, have been invited to perform at the 2023 International Double Reed Convention. The convention will take place in July at Mahidol University in Bangkok, Thailand.
The first recital, "Finding Light," features Aglow Trio, comprised of Morris, Arrington and Karen Large, Florida State University assistant professor of flute, giving three international premieres of newly commissioned works by Reena Esmail and K-State alumni Grace Baugher Dunlap and Tony Rodriguez. The second recital, "Of Infinity," features Morris, Kelley Tracz, assistant professor of oboe at Concordia College, and pianist Glenn Harman giving international premieres of two of Morris' most recent compositions.
Morris teaches applied oboe at K-State and has appeared as a soloist in venues throughout the United States, Scandinavia, the British Isles and Western Europe. Morris is a preeminent composer, and her chamber music is performed extensively around the world.
Arrington is the faculty collaborative pianist for the music program at K-State. She maintains an active performing career, collaborating with faculty artists, guest artists and students in more than 100 concerts each year.