March 20, 2023
Bandana Project open training offered March 21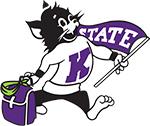 ***Location correction: This announcement has been updated since publication to include the corrected location in the K-State Student Union, Big 12 Room.
The Thrive Navigators, a departmental student organization under the leadership of Lafene Health Center, will present an open training for the Bandana Project at 6 p.m. Tuesday, March 21, in the K-State Student Union, Big 12 Room.
Have you wondered why people on campus have green bandanas tied to their backpacks? Individuals with a green bandana have participated in the Bandana Project training, and their bandana indicates that they care about your mental health and know the resources that are available for you if you need help. They are available to listen, support and guide.
Sign up for the Bandana Project training if you are interested in learning more about this national mental health awareness and suicide prevention campaign to support peers in getting help. The Bandana Project's efforts raise awareness of help resources, normalize and de-stigmatize getting help, and provide invaluable, unspoken solidarity with those struggling.