March 20, 2023
K-State industrial design students present at IDSA Student Merit Awards in Kansas City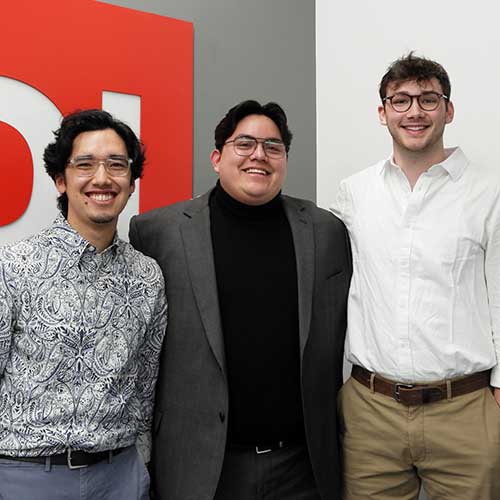 Three outstanding students from the Kansas State University College of Architecture, Planning & Design's departments of interior architecture and industrial design participated in the prestigious Industrial Designers Society of America Student Merit Awards hosted in Dimensional Innovations in Kansas City, Missouri.
The students who represented APDesign were Jordan Cutsinger, El Dorado; Jacob Kim, Colorado Springs, Colorado; and Dustin McDermott, Granby, Missouri, all of whom demonstrated impressive design skills and creativity during the presentations.
By the end of the presentations, Cutsinger's designs caught the attention of the judges, earning him a highly desired position in the next round of the Student Merit Awards. This is a remarkable achievement, given that the Student Merit Awards are known for attracting the most talented industrial design students from all over the country.
The society's Student Merit Awards are designed to recognize and promote excellence in industrial design education. The competition provides a platform for students to showcase their skills and creativity in front of a panel of judges who are experts in the field of industrial design.
Judges comments included: "K-State's industrial design program is proud to have students like Dustin, Jacob and Jordan, who are not only talented but also passionate about their craft. Their participation in this competition reflects the quality of education that K-State provides, as well as the dedication and hard work of our faculty and staff."