March 8, 2023
K-State GRAD Forum kicks off today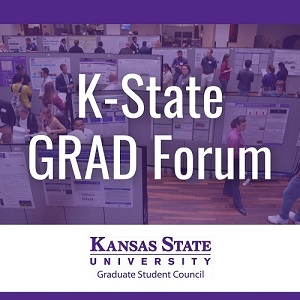 The annual K-State Graduate Research, Arts and Discovery Forum, or K-GRAD, begins today, March 8, with a poster session from 1:30-4 p.m. in the K-State Student Union courtyard. The forum continues on March 9 with oral presentation sessions throughout the day on the second floor of the K-State Student Union. More than 60 graduate students from across the university will present their work.
K-GRAD is an annual showcase of K-State graduate student research and scholarly work. The event provides graduate students from all disciplines an opportunity to share their work with the K-State community and to gain experience presenting their work in a professional setting.
The K-GRAD Forum is open to the public. This is an opportunity to learn about the diverse and important research being conducted by K-State graduate students. An abstract booklet with presentation schedules and abstracts of presentations is available on the K-GRAD webpage.
K-State faculty, staff and postdoctoral researchers will serve as judges to select the most outstanding presentations to receive awards.
The forum will conclude with a reception at 3:45 p.m. March 9 in the Big 12 Room in the Union, followed by an awards ceremony to announce winners at 4:15 p.m.
Questions about K-GRAD may be directed to the Graduate Student Council at egsc@k-state.edu or to Megan Miller, Graduate School student success coordinator, at mmmiller@k-state.edu.