March 3, 2023
Carl R. Ice College of Engineering recognized by ASEE's Diversity Recognition Program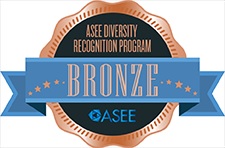 The Carl R. Ice College of Engineering was recognized at the bronze level by the American Society of Engineering Education, or ASEE, Diversity Recognition Program. Assistant Dean Craig Wanklyn received the award on behalf of the college on Feb. 28 at ASEE's Collaborative Network for Engineering and Computing Diversity event in New Orleans.
The award recognizes the college's commitment to making significant, measurable progress in increasing diversity, inclusion and degree attainment outcomes with its programs. Additionally, this award places the college among the nation's leaders in inclusive excellence.
"This recognition from ASEE is the culmination of years of hard work done by our office and staff," said Amy Betz, assistant dean for retention, diversity and inclusion and associate professor of mechanical and nuclear engineering. "It's nice to be recognized for this work, but our dedication to diversity, equity, inclusion and belonging stems from our desire to help students find community at K-State and leave this institution prepared to engage in a global and diverse corporate environment."
In 2022, the college restructured to form the office of diversity, equity, inclusion and belonging, led by Betz. The office supports the Multicultural Engineering Program, Women in Engineering and other diversity initiatives, including the annual Diversity, Equity and Inclusion Summit.