March 3, 2023
Dance program hosts master class on the ethics of instructional touch
Submitted by School of Music, Theatre, and Dance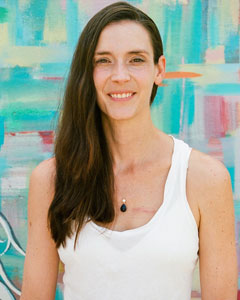 The K-State dance program is hosting a virtual master class, "The Ethics of Teaching Dance With(out) Touch," with guest artist Nicole Perry from 11:30 a.m. to 12:45 p.m. Tuesday, March 7.
Any K-State student interested in participating should contact Kate Digby at kdigby@k-state.edu to reserve a spot in the class.
The master class will explore: How do dance students know and establish boundaries when it comes to touch? How do choreographers and teachers help cultivate collaboration, communication and consent in their own creative processes? Touch is part of teaching and performing dance; therefore, to promote safety and agency, practices of consent and personal agency should be cultivated. This interactive session is an introduction to working consent as a way of creating collaborative, healthy, creative spaces for dancers.
Perry is a Silver Palm award-winning intimacy director as well as intimacy coordinator and dance choreographer in South Florida. Career highlights include two Broward County Artist Investment Grants for KINesphere, intimacy coordination for "God Forbid" on Hulu and a Carbonell nomination for the intimacy direction of "To Fall in Love at Theatre Lab."
Perry is a certified Laban/Bartenieff movement analyst and provides workshops on Laban, as well as consent and power in creative practice, through Momentum Stage. She founded this nonprofit to provide affordable virtual professional development for performing artists and arts educators.
Perry holds a Master of Fine Arts in interdisciplinary arts with concentrations in performance creation and decolonial arts praxis from Goddard College. She is an adjunct professor of dance at the University of Miami.
Perry is a member of the Stage Directors and Choreographers Society, the Dance Studies Association, the National Dance Education Organization and the Association of Theatre Movement Educators. She apprenticed with Intimacy Directors International and is certified in both intimacy direction and intimacy coordination with Intimacy Directors and Coordinators.