February 16, 2023
K-State dance program hosts Karida Griffith Walker
Submitted by School of Music, Theatre, and Dance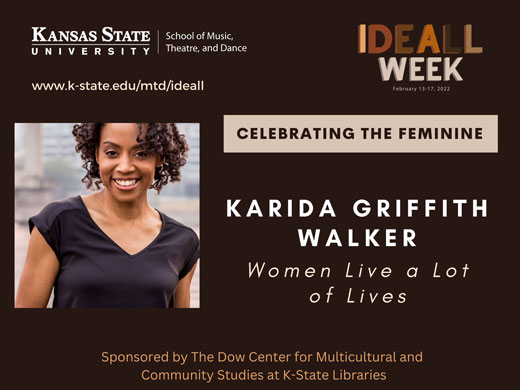 The Kansas State University dance program will host guest artist Karida Griffith Walker Feb. 17-21.
Griffith Walker will be creating new works in tap and vernacular jazz styles for "Reflections: Spring Dance Concert '23," offering a short lecture, "Women Live A Lot of Lives," as part of IDEAll Week 2023 in the School of Music, Theatre, and Dance at 2 p.m. Friday, Feb. 17, in Chapman Theatre at Nichols Hall. Griffith Walker also will teach a master class in jazz dance on Tuesday, Feb. 21.
If you are interested in attending the master class, contact Kate Digby, associate director for dance in the School of Music Theatre and Dance, at kdigby@k-state.edu.
Griffith Walker's dance career took off when she was cast in the European tour of the Broadway hit "Black and Blue," working with the great Henry LeTang, Dianne Walker, Bunny Briggs, Germaine Goodson, Dormeshia and others. After completing her business degree at New York University, Griffith Walker became a Radio City Rockette, where she performed in the Radio City "Christmas Spectacular," Sinatra, on The Today Show and the Tony Awards.
Griffith Walker was also a dancer for Cirque du Soleil and was a featured dancer in multiple episodes of the HBO hit series "Boardwalk Empire." In addition to being a founding member of the critically-acclaimed tap dance company Dorrance Dance, Griffith Walker was also honored to be a member of select companies including the Cotton Club Sophisticated Ladies with Dormeshia, T.A.D.A.H. with Jared Grimes, Mable Lee's Ladies and Barbara Duffy and Company, and she has also performed with Chloe Arnold's Syncopated Ladies. Griffith Walker has been on the tap dance faculty at the renowned Broadway Dance Center in New York and a professor in Pace University's cutting-edge Bachelor of Fine Arts in commercial dance program. She has taught at festivals and conventions throughout North America.
Now based in Portland, Griffith Walker has brought her passion for tap dance education to dance teachers around the world with her online training program called The Tap Teachers' Lounge, a 10-week course designed to give teachers the knowledge, strategy and skills to lead tap classes that excite their students, foster excellence and build tap class enrollments in the dance studio.
Griffith Walker has continued to work with the The Children's Theatre Company, a nonprofit organization which fosters the belief that, through the arts, children can become agents of positive change and healing in the world. She is also a member of Sebe Kan, the West African dance company founded by her husband, Derrell Sekou Soumah Walker. Most recently, Griffith Walker has been offering seminars about "Racism and the Dance World" and is now offering a new professional development initiative for dance educators called Roots, Rhythm, Race and Dance.