What is IDEall?
IDEall stands for Inclusion, Diversity and Equity for All. This committee, formed in 2020, is open to all faculty and staff of the Kansas State University School of Music, Theatre and Dance.


Check out our anti-racism resources, with articles, recordings, playlists and artist databases in all school disciplines.


Events
IDEAll Week 2023 is Feb. 13-17!
Sponsored by the
Dow Center for Multicultural and Community Studies
This year's programming celebrates women in the arts. Join us for live and virtual events. Virtual offerings will be made available through our YouTube channel.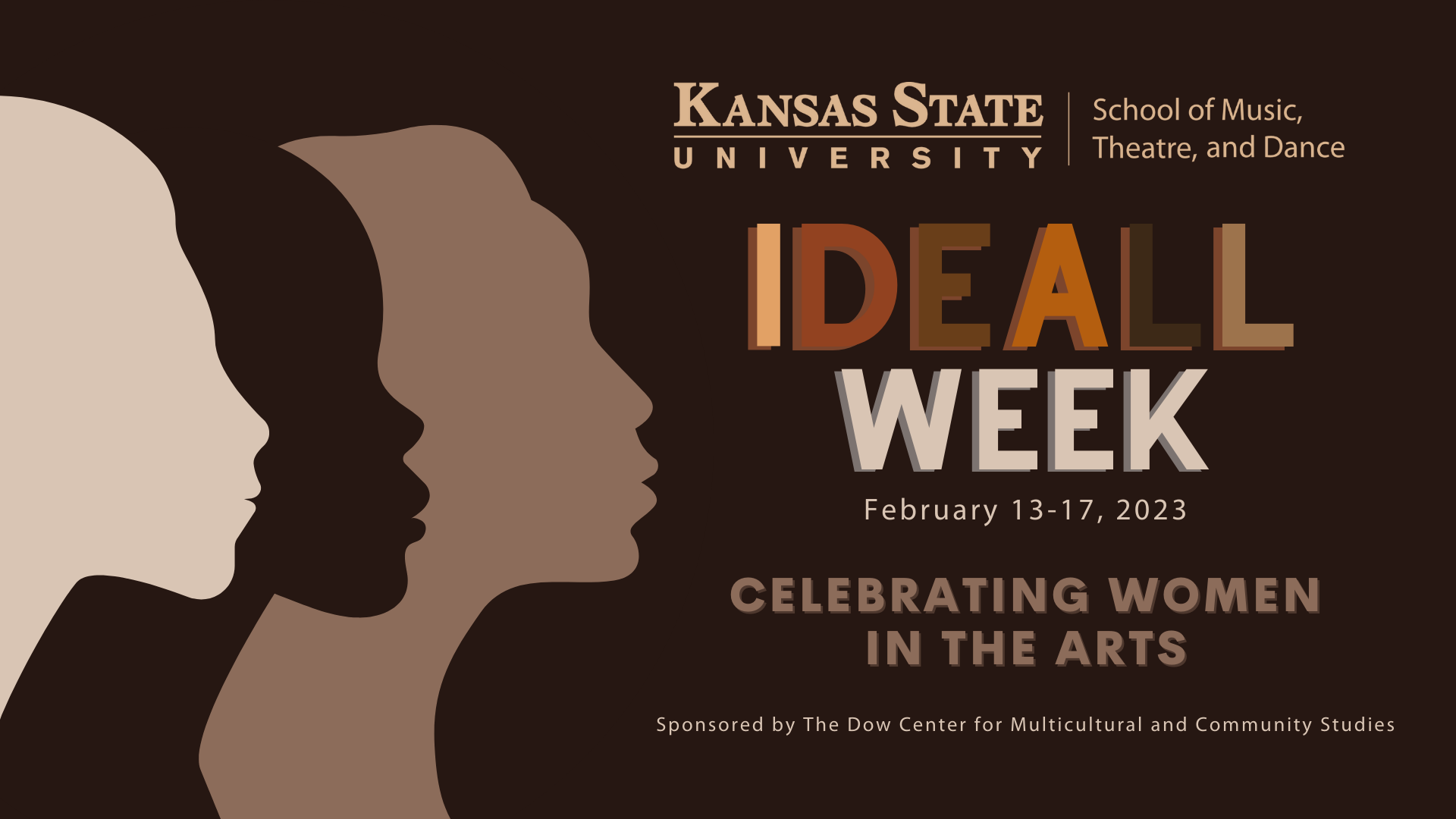 In-Person Events

Date

Time

Event

Hosted by

Location

Feb. 13

12:30 PM

MTD Convocation: Welcome to IDEAll week

MTD IDEAll committee

Purple Masque Theatre

Feb. 13

6:00 PM

Mirage: A Conversation with the composer Grace Baugher Dunlap

Alex Wimmer

135 McCain Auditorium

Feb. 16

12:00 PM

Julia Riew: Leading Cultural Change Through Social Media: There Was No Korean Disney Princess So I Decided To Make My Own

Julia Riew

Forum Hall, K-State Student Union

Feb. 16

7:30 PM

Celebrating New Music: Compositions by Women

Craig Weston

All Faiths Chapel

Feb. 17

2:00 PM

Women Live Many Lives: Karida Griffith Walker

Kate Digby

Chapman Theatre (Nichols Hall)
(events will be posted the week of Feb. 13)

Event

Hosted by

Ugly Babies and Scrooged Moms: Lisa Mendes' Life as an Actor

Joelle Arp-Dunham

The New Rehearsal Room: Featuring Noelle Diane Johnson

David Mackay

F.I.R.S.T

F-Female Professional in my Family

I-Intellectual Property

R-Reed Making Solution

S-Share my Story

T-Trailblaze

Susan Maxwell

What is a Woman? Make Believe You Know Nothing…An Interview with K-State Dance Guest Choreographer Alexandra Beller

Kate Digby

Violin Music by Women: Featuring Cora Cooper, Maureen Yuen, and Songhua Chen

Ruth Gurgel

Meghan Gardiner: Playwright

David Mackay

Kansas Premiere of No Ordinary Woman, Cycle for Soprano and Clarinet

Amy Rosine

Celebrating New Music: Compositions by Women

Craig Weston
Occupying Indigenous Land: Kansa(s) Perspectives on Land Acknowledgements, #Landback and K-State's History