December 13, 2022
Veterinary students receive prestigious national equine scholarships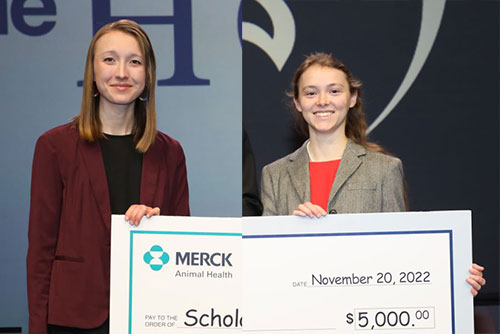 Two K-State College of Veterinary Medicine students, Anne Brien and Bailey Fritz, were awarded $5,000 scholarships on Nov. 20 at the 68th annual American Association of Equine Practitioners, or AAEP, convention in San Antonio, Texas. Both are third-year veterinary students who received the support of their clinical instructors and association members during the application process.
Brien and Fritz were two out of 16 scholars who received scholarships from the Foundation of the Horse. The scholarships are given to veterinary students at veterinary colleges throughout the U.S., Canada, Caribbean and Europe in recognition of their academic excellence and leadership roles in both their college and their AAEP student chapter, as well as their long-term plans in equine science.
Brien received one of four $5,000 Merck Animal Health Scholarships. The award recognizes veterinary students who plan on pursuing careers in equine practice.
"We are incredibly proud to support these future equine veterinarians through our continued partnership with the AAEP and its charitable arm, The Foundation for the Horse," said Bryant Craig, equine professional services for Merck Animal Health. "These students represent the future of care and welfare for horses, and Merck Animal Health knows their leadership will help move our mission forward by advancing the science of healthier animals."
Fritz, who is a dual degree Doctor of Veterinary Medicine/Ph.D. student, was the sole recipient of the second annual Dr. Bill Rood Leadership Scholarship.
She plans to pursue a career in equine medicine and pharmacology upon completion of her D.V.M. in 2024 and doctorate in physiology in 2025.
"I would love to work in academia in the future, where I hope to both practice medicine and conduct research on the physiology and treatment of chronic pain and injury in horses," Fritz said. "I am specifically interested in investigating navicular syndrome and osteoarthritis, for which we don't have effective therapies. Training in surgery and pharmacology will equip me to solve these problems and enable me to translate my work to human medicine."
Managed through the Foundation for the Horse, the endowed scholarship was established in 2021 by friends, colleagues and clients of the retired co-founder of Rood & Riddle Equine Hospital in Lexington, Kentucky.
Rood received his D.V.M. from the University of California, Davis, in 1972 and his Juris Doctor from the University of Kentucky in 1975. He started an ambulatory equine practice in Lexington while in law school. In 1982 he partnered with Tom Riddle, D.V.M., to form what is now Rood & Riddle Equine Hospital, which has grown to encompass the original hospital and a veterinary pharmacy in Lexington, as well as satellite hospitals in Saratoga Springs, New York, and Wellington, Florida.
For more information about this program and other scholarships offered through the Foundation for the Horse, visit foundationforthehorse.org.