December 9, 2022
K-State marketing students partner with Tough2gether against DIPG/DMG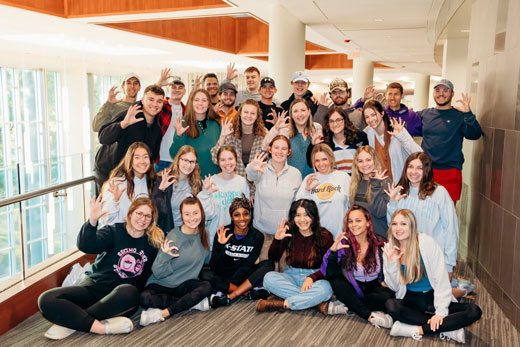 Students in Ester Swilley's Strategic Marketing class.
Marketing students at Kansas State University are helping members of the K-State family make a difference in the battle against childhood cancer through their marketing efforts for the organization Tough2gether.
Co-founder of Tough2gether, Lisa Ward, has large ambitions to make a change with this organization and knew that this was not just a task for one individual.
"What I saw at K-State was the opportunity to involve our very bright business students in the growth of Tough2gether's social media presence, the behind-the-scenes management of marketing, and event planning for a not-for-profit — I hoped to offer the students the chance to create website design, internet-based campaigns, social media campaigns, and a print program for the first Brainstorm Summit which is now the largest gathering of parents and researchers in pediatric cancer," Ward said.
Students in the Strategic Marketing class are working on projects for Ward such as donation matching, creating an online experience auction, social media strategy, monthly giving campaigns, and long-lasting marketing tools for her to use beyond this semester. Most recently, students took on the project of creating a trifold pamphlet that will be distributed to all neurologists and pediatric oncologists across the country who come in contact with pediatric brain cancer. The pamphlet announces a national tumor board to review DIPG cases and provide the best advice to physicians in this rare pediatric brain cancer. The class projects not only give students the opportunity to gain real-world marketing skills but also to continue the mission that was started by one of their own.
At the age of 20, Jace Ward was diagnosed with DIPG which kills more kids than any other disease in the U.S., yet the Ward family had never heard of it. Jace was given six to nine months to live and knew that he needed to stay busy. Over the next 25 months, Jace became an advocate for those who have DIPG and did everything he possibly could to help advance research to ensure that someday there would be a cure for DIPG.
"This marketing class is on track to show the world what K-State students can do, and will do, for one of their own," Ward said. "Jace was a K-State senior in the business school when he lost his life to DIPG after a 25-month battle. He was so proud of the K-State family, and I can absolutely understand why."