December 5, 2022
Agronomy department welcomes new assistant professor of crop science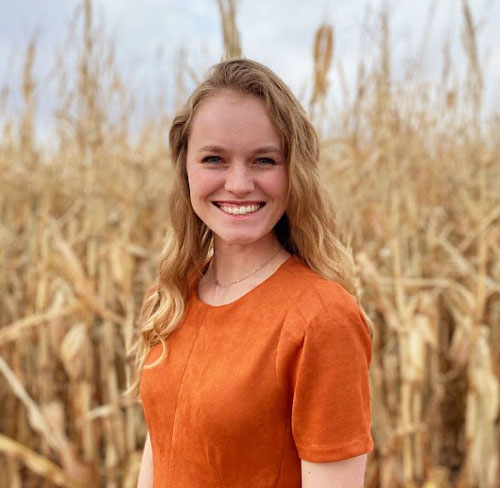 The agronomy department welcomed a familiar face when former graduate student, Rachel Veenstra, began her new position as assistant professor of crop science. Veenstra assumes many responsibilities of longtime crop science professor Kevin Donnelly, who retired in June. She officially started her new role on Nov. 27.
Originally from southern Missouri, Veenstra was raised on her family's cow-calf ranch near Hartville. As the oldest of three kids, she loved helping her parents on the farm and fell in love with agriculture at a very young age. Although surrounded by animals, Veenstra developed a fascination with plants and enjoyed gardening — encouraged by her grandmother who always had the prettiest flowers and a big garden. When it came time to select a college major, Veenstra was thrilled to discover studying plants and crops was an option.
Veenstra graduated with her bachelor's degree in environmental plant science — crop science from Missouri State University in Springfield, Missouri, in 2018. An internship in Manhattan with Corteva Agriscience — DuPont Pioneer at the time — led her to Kansas State University, where she accepted a graduate research assistantship with Ignacio Ciampitti in 2019. Her graduate work on tillering in corn garnered international interest, several awards, and a nickname — "the Tiller Queen." After successfully defending her dissertation in October, Veenstra will officially graduate with a doctorate degree in agronomy on Dec. 9.
Responsibilities of this position include teaching two undergraduate courses, Crop Science — AGRON 220 and Plant and Seed Identification — AGRON 350, and establishing a field-based agronomy research program. Veenstra will also assume the role of coach for the collegiate crops and NACTA judging teams and serve as an advisor for the Wheat State Agronomy Club.
"I couldn't be more excited to continue in this rich community I have found with K-State agronomy," Veenstra said. "What a blessing to have the opportunity to inspire others and help students shape and achieve their dreams. I hope to bring enthusiasm and innovative classroom experiences to these courses, and meaningful agronomic solutions to stakeholders through my research program."
Outside of work, Veenstra enjoys volunteering in the preschool at a local church, gardening, spending time with her family and crafting. She can be reached by email at rveenstra@k-state.edu and follow her on Twitter at @rachel_veenstra.
"Agronomy is thrilled to retain Dr. Veenstra who out-performed her competition via a national open search for the crop science faculty position," said Raj Khosla, department head of agronomy. "In addition to significant teaching responsibilities, this position has a 30% research appointment. We are looking forward to grow our research enterprise in the area of crop science. Dr. Veenstra is among the best talent in our nation and I am excited that she has chosen our department to further her career aspirations."