December 2, 2022
National Strategic Selling Institute hosts Fall 2022 Adams Cable Equipment Sales Competition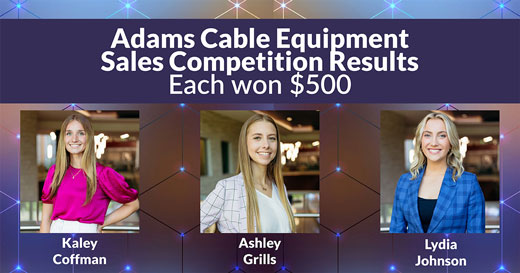 The National Strategic Selling Institute at Kansas State University hosted the Fall 2022 Adams Cable Equipment Sales Competition on Nov. 16.
Students from the College of Business competed in the sales competition consisting of one round of role-play events with 16 student competitors. In the scenario, students acted as account managers for Adams Cable Equipment; in this role, their responsibility is to prospect and drive new business. In the sales call, students meet with a fictitious prospect for an initial needs discovery meeting.
This sales competition allows students to be awarded merit awards for their performance and demonstration of sales skills in a mock environment. The top three students from the sales competition received a $500 student merit award; this fund was set up to help deserving students finance their college education and establish an endowment for sales student scholarships.
The following students finished top three in the competition: Kaley Coffman, senior in professional strategic selling and finance, Bonner Springs; Ashley Grills, senior in management, Overland Park; and Lydia Johnson, senior in professional strategic selling and Spanish, Prior Lake, Minnesota.
"The quality of students participating in the role-play far exceeded our expectations," said David Whitacre, director of sales at Adams Cable Equipment. "It was an extremely close competition, and we were very impressed with how the students owned the experience."
The National Strategic Selling Institute is housed in the College of Business Administration, which has been named one of the top sales programs in the country for 11 straight years by the Sales Education Foundation. K-State offers a major in professional strategic selling and students can also earn a certificate in professional strategic selling, which is open to all majors at the university. The professional strategic selling program introduces students to the fundamentals of sales and the innovative curriculum and sales labs allow students to develop the skills needed to be successful.
For more information on the National Strategic Selling Institute, please contact kstatesalesprogram@k-state.edu.