November 15, 2022
Wytko named 2022 International Educator of the Year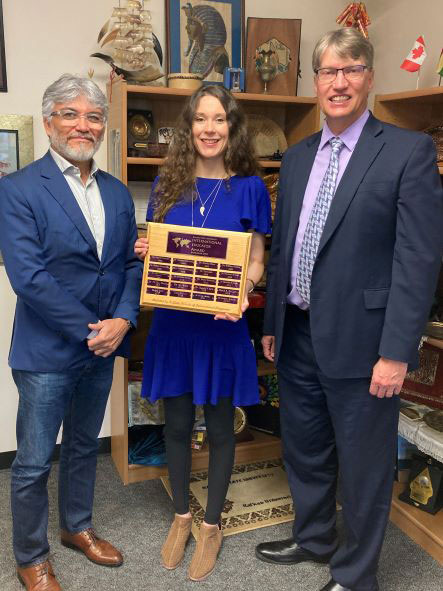 Anna Marie Wytko, professor of music — saxophone and chamber music — in the School of Music, Theatre, and Dance in the College of Arts and Sciences, is the 2022 International Educator of the Year.
K-State created the International Educator of the Year Award in 2003. It established by the provost's office and implemented by the Office of International Programs. We recognize Wytko now during International Education Week and the award will be presented to Wytko during the All-University Awards Ceremony in spring 2023.
The award recognizes an individual who has contributed to advancing international education at the university.
"Receiving the International Educator of the Year Award is a true honor," Wytko said. "It is a privilege to work with students from different parts of the world and to share the gift of teaching music in a variety of performance settings. I always find myself inspired by the students who I have the pleasure of teaching. Mentoring a wide range of students from unique cultural backgrounds with the development of their own diagnostic skills often challenges me to refine my own thinking about pedagogical performance approaches. A studio music setting is not limited to the learning that takes place for the student; rather, this setting, at least in the manner that I perceive it, provides learning opportunities for me as the professor. The development of effective strategies for music problem solving and performance interpretation is exciting, joyful, and highly contagious. My international teaching and performing experiences have exposed me to new, diverse music and methodologies which I then get to share with all of my students at Kansas State University. Teaching music has the ability to enrich one's soul, which is something for which I am most grateful to experience on international, national, and local levels with all of my students."
One international student nominator said, "As a graduate teaching assistant, Dr. Wytko's mentorship has provided me with meaningful opportunities for professional and personal growth. The outstanding professionalism and engagement with which Dr. Wytko conducts her teaching and other professional work have taught me so much about what it means to be a professional educator and person."
Internationally, Wytko has performed and taught extensively throughout North, Central and South Americas and Europe. She regularly travels outside the United States for international teaching, recording and performing residencies.
Another nominator said, "She is very highly sought after nationally and internationally as a solo and guest clinician in this extraordinarily competitive specialty of saxophone."
"Dr. Wytko has many examples of contributions to international education at Kansas State University," said Marcellus Caldas, assistant provost of international collaboration and educational programs in the Office of International Programs. "She is a rising star in the School of Music, Theatre, and Dance and an example of dedication to our students."
The K-State Office of International Programs recognizes the International Educator of the Year during International Education Week each year. International Education Week runs from Nov. 3-18 at Kansas State University.