November 11, 2022
Three Minute Thesis Competition registration is now open
Submitted by Bailee Lynn Irwin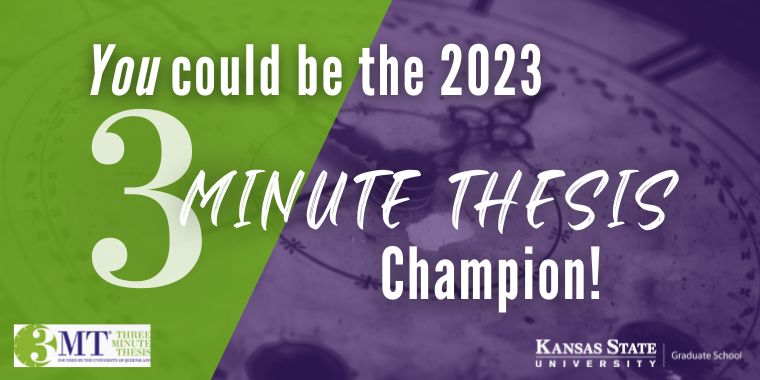 The Graduate School will host the annual Three Minute Thesis Competition, or 3MT, in February 2023.
Registration for graduate students to participate is open now and will close on Dec. 12. Learn more about 3MT and how you can be successful at informational sessions from 1-2:30 p.m. Nov. 30 and 2:30-4 p.m. Dec. 8 via Zoom
The competition, first held at The University of Queensland in 2008, is an academic competition that challenges graduate students to present a compelling oration on their graduate research and its significance to a non-expert audience in just three minutes using a single, static slide.
This exciting competition is an excellent professional development opportunity. Participating in 3MT is a great way for graduate students to enhance their communication and presentation skills and develop an elevator pitch to use when networking and interviewing for jobs. Other benefits of participating in 3MT include building interdisciplinary connections and competing for awards.
Graduate students from all disciplines are welcome to participate in the first round to be held on Feb. 8, 2023. Up to 10 participants will be selected to compete in the final round on Feb. 22, 2023. Judges in the final round will select first-place and second-place winners to receive scholarship awards. The first-place presenter will also represent K-State at the Midwestern Association of Graduate Schools 3MT competition on March 31, 2023.
To learn more, register for an informational session, or register for the competition, please visit the 3MT webpage. Additional questions can be directed to Megan Miller, Graduate School student success coordinator, at mmmiller@k-state.edu.