Tickets now on sale for two holiday fundraising events in early December benefiting McCain Auditorium
Friday, Nov. 11, 2022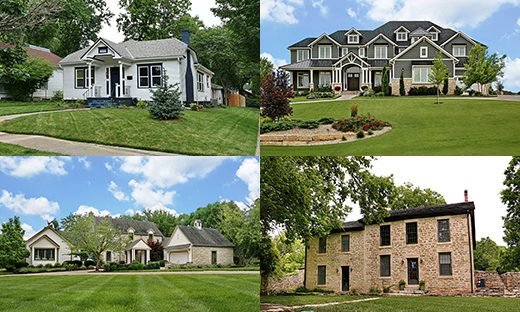 The McCain Holiday Home Tour on Sunday, Dec. 4, will feature the following homes: Top left, Todd and Teri Holmberg home; top right, Jake and Barb Wassenberg home; bottom left, Chuck and Susie Grier home; and bottom right, the StoneHouse. | Download this photo.
MANHATTAN — Tickets are now on sale for two major events in December hosted by the Friends of McCain Auditorium to benefit the McCain Performance Series and its education programs.

McCain's first-ever Holiday Gala and Auction will be at 7 p.m. Saturday, Dec. 3, while the Holiday Home Tour returns from 11 a.m. to 4 p.m. Sunday, Dec. 4. Both events help the McCain Performance Series and its education programs recover from the financial ravages of the pandemic. The McCain Performance Series and its education programs are completely funded through donations, ticket sales and event sponsorships. They receive no funding through the university or the state of Kansas.

The McCain Holiday Auction and Gala begins with a reception in the new Jack and Joann Goldstein Grand Lobby. Bid on unique must-have silent auction items, enjoy an open bar and delectable food while being entertained by local performers. Next, proceed to the theatre and experience impressive live stage performances while live-bidding on arts trips and other exclusive experiences, many of which are only available at the McCain auction. Finally, dance the night away to the music of Aye Oh!, a Manhattan local band. Tickets are $125 per person and are on sale online at auctria.events/McCainHolidayGala. McCain is still accepting sponsorships and donation items. Chairing this event is Amanda Purdom. Call the McCain office at 785-532-6425 for more information.

This year's Holiday Home Tour features four highly unique area residences decorated for the holiday season. The tour will feature Todd and Teri Holmberg's home on Humboldt Street. Affectionately known as "The Bee's Knees," this 1920s cottage features a unique combination of historic and modern features and décor, artifacts salvaged during the renovation and the couple's collectibles, including Todd Holmberg's photo and autograph collection from a career in show business.

The tour also features Jake and Barb Wassenberg's Colbert Hills home. Sitting high on a hill, this modern Nantucket is a blend of classic architecture with clean lines and fun accents of navy and brass. This home is the perfect setting for large gatherings and family get-togethers.

Settled in the Sharingbrook neighborhood, Chuck and Susie Grier's newly remodeled home expanded its original footprint by adding a primary suite on the main level. The working butler's kitchen and multi-dining spaces are perfect for entertaining. The home's curated art and family antiques help make it an inviting and comfortable place.

The StoneHouse is an exquisite 1860s guest residence that has been elegantly restored with today's modern amenities. The limestone estate creates an intimate environment that is both restful and inspiring. The 150-year-old hand-hewn timber beams, a kitchen with a large farmhouse center island and 48-inch Italian range, as well as original floors, vaulted ceilings and an elegantly landscaped courtyard paired with a roofless barn patio and a spring-fed pond, make for a truly distinctive experience.

The variety of homes and decorations will offer inspiration to tour-goers. Tickets are $25 in advance, $30 at the door and are now on sale online at McCain's website, mccain.k-state.edu/events. Tickets are also available at the McCain ticket office or by phone, 785-532-6428, Wednesdays through Fridays from noon to 4 p.m. Chairing this event is Julie Keenan.

Email mccain@k-state.edu for more information on both fundraising events.