November 11, 2022
Olson named Student Award winner at Mid-America Design Awards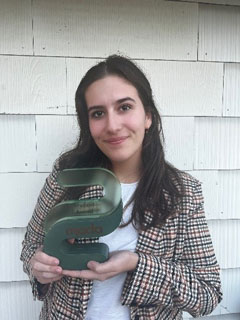 Katie Olson, O'Fallon, Missouri, a fifth-year interior architecture graduate student in the College of Architecture, Planning & Design's interior architecture and industrial design department, won the Student Award for her submission to the Mid-America Design Awards on Oct. 21 in Kansas City, Missouri.
The event is biennially held by the International Interior Design Association, or IIDA, Mid-America Chapter to honor exceptional interior design work in the Kansas City and Wichita areas. Professionals and students alike submitted designs that were judged based on implementation of brand and design intent, innovation and function.
Olson's winning submission was a hybrid workplace design she created in her fourth-year studio based on Steelcase's NEXT Student Design Competition fictional brand, Next Beauty, that values diversity and equity. The project required students to develop a design in a two-story space in New York City for an inspiring company with unique clientele and employees. To address these components, Olson's design strived to provide spaces for different styles of individual productivity, allowing for a smooth transition back into the post-pandemic office for those who no longer thrive in a more traditional setting.
According to Olson, another important objective for the design was to create a sense of community and connection between employees, clients and executives utilizing principles of meaningful connection, including a sense of belonging, incidental connection, inclusive connection, observed connection and shared activity. Olson's final goal was to portray the brand's values and identity through the design of the entry space, demonstrating a culture of diversity, equity, inclusion and belonging to clients on first impression.
"What I love about this award for Katie is that she was not able to complete her Next competition entry the way she had hoped last fall," said Nathan Howe, department head of interior architecture and industrial design. "She knew she had a great design concept. She kept developing it and entered it into the Mid-America Design Awards. Her belief in her design work and herself paid off! I am proud of her and know that this affirmation of her effort will continue to pay dividends in her future."
The IIDA Mid-America Chapter offers support for interior design professionals and students through member events and professional development opportunities throughout the year.