November 9, 2022
K-State Theatre to host spring 2023 auditions for all students
Submitted by Jerry Jay Cranford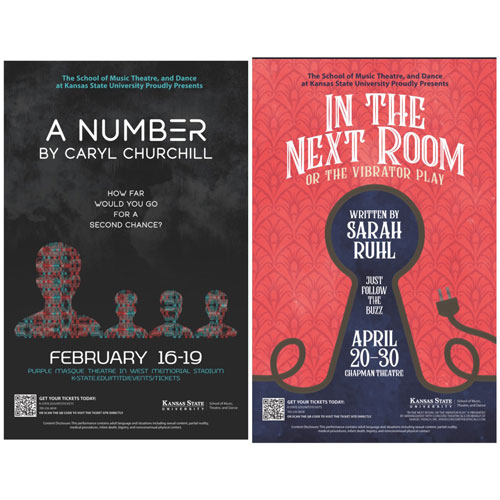 K-State Theatre will host its general auditions for spring 2023 from 7-10 p.m. Tuesday, Nov, 15, in Chapman Theatre in Nichols Hall.
Productions auditioning are "In the Next Room (Or the Vibrator Play)" by Sarah Ruhl, directed by Joelle Arp-Dunham and "A Number" by Caryl Churchill, directed by theatre major Jackson Berland.
There will be selections to read provided for freshmen and non-majors interested in auditioning or you may prepare a monologue no longer than two minutes.
Callbacks will be posted at on the blog at kstatemtd.com.
"In the Next Room" will host callbacks from 7-10 p.m. Wednesday, Nov. 16, in Chapman Theatre. "A Number" will host callbacks from 7-10 p.m. Thursday, Nov. 17, in Chapman Theatre.
Ruhl's "In the Next Room (or The Vibrator Play)" is set in the 1880s at the dawn of the age of electricity and based on the historical fact that doctors used vibrators to treat "hysterical" women (and some men). The play centers on a doctor and his wife and how his new therapy affects their entire household. Dr. and Mrs. Givings must examine the nature of their own marriage, and what it truly means to love someone. The production begins rehearsals in March 2023.
Churchill's "A Number" is set in a not-so-distant future where human cloning is possible and accessible. A widowed father, Salter, gives up on his 5-year-old son, Bernard, who has been neglected after his mother's passing. Salter clones his son and is granted a fresh start with a genetically identical son who is none the wiser to the situation. This play deals with the question of nature vs nurture. Are we born as the people we are? Or do we become who we are through the circumstances of our upbringing? This play also deals with ownership of identity. What happens when there are many versions of you, exactly you, but free to make their own decisions? Do you become diluted? Or are you still entirely yourself?
For further information on character breakdowns, rehearsal dates, performance dates and additional audition information, please check kstatemtd.com.