September 27, 2022
Veterinary Health Center thanks Merck Animal Health with ribbon-cutting for livestock receiving and treatment area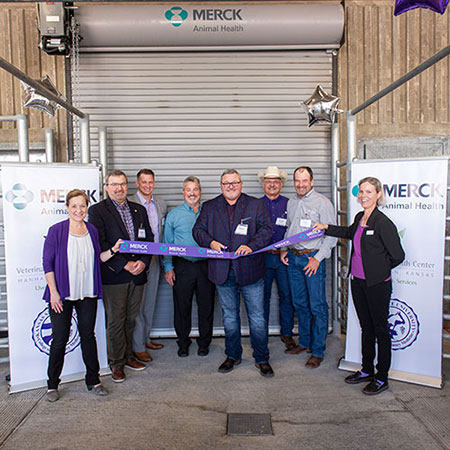 Livestock health and welfare recently took center stage for a special event at the Veterinary Health Center. Guests from Merck Animal Health visited Kansas State University on Sept. 16 to help dedicate and cut the ribbon for the recently renovated Livestock Services receiving and treatment area.
"The livestock receiving area had been virtually unchanged since 1978," said Bonnie Rush, Hodes family dean of the College of Veterinary Medicine. "We needed to build cattle-handling facilities that are more cattle friendly and student friendly. We were fortunate to receive support and expert help from Merck Animal Health in redesigning this area. We were also helped by Kip Lukasiewicz, a 1999 graduate of this college, and Temple Grandin, a prominent expert on livestock handling systems."
Upgrades to the area include:
New drive-thru unloading feature to improve patient drop-off and pickup.
Holding pens, alleyways, sweep and bud tub handling of cattle to improve output and safer movement of patients.
A new rotational chute provides increased versatility to examine a variety of large animal patients with lameness.
An upgraded obstetrics handling area will improve services provided for pregnancy-related disorders.
"With the renovations made, we can process patients safely and efficiently," said Matt Miesner, section head and clinical professor in Livestock Services at the Veterinary Health Center. "It's a beautiful facility and it's an extremely functional facility. It's a great benefit for us and the students and our clients. We just saw an example yesterday. We had a couple of bucking bulls brought in to be vaccinated. In the old days, that was not simple —but now we can handle it with ease."
Miesner said improvements not only came from a need for structural repair but a need to rise to the standards of modern, safe, efficient and low-stress animal handling methods.
Shannon Kellner, associate vice president for the U.S. Livestock Team at Merck Animal Health, cut the ribbon at the ceremony and spoke about Merck Animal Health's relationship with K-State and the College of Veterinary Medicine.
"We have several K-State veterinary alumni employed in our livestock division since we are located in Lenexa, Kansas," Kellner said. "Although we are a large company, we still feel we are relationship-based when it comes to our partnerships and our customers. It's important to work with people who align with our mission. We're very proud to be a part of this dedication event for this beautiful facility and to know what it's going to do for the veterinary college and how we can continue to partner with K-State."
"It is our mission to meet the highest accreditation compliance standards," said Elizabeth Davis, director of the Veterinary Health Center. "With this aim in mind, we planned for structural and equipment upgrades to provide optimal patient care and teaching space. We are pleased to have these upgrades complete, which will allow us to provide high-quality large animal patient care in a contemporary facility. We are very thankful to Merck Animal Health for helping to make this happen."