June 30, 2022
Pinkall named director of the School of Music, Theatre, and Dance
Submitted by College of Arts and Sciences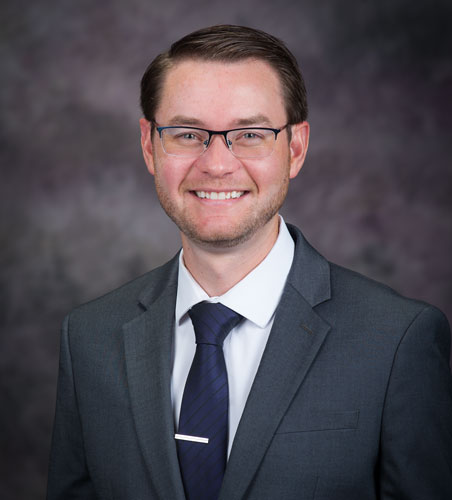 Bryan Pinkall, associate professor of music, is the new director of the School of Music, Theatre, and Dance in the College of Arts and Sciences.
"I am honored and thrilled for the opportunity to serve the faculty, students, and staff of the School of Music, Theatre, and Dance," Pinkall said. "Our programs provide students across many disciplines with cultural experiences that promote social connection, critical thinking skills and artistic expression. These enriching college experiences are vital for the recruitment and retention of students at Kansas State University. I look forward to working with my colleagues to grow our thriving arts community."
Pinkall received a Doctor of Musical Arts from the University of Missouri, Kansas City, where he was a Kauffman scholar, and received a Master of Music and Bachelor of Arts from Kansas State University. He was named the 2014 Distinguished Kansan of the Year in Performing Arts by the Topeka Capital-Journal, was the recipient of the American Prize in Vocal Performance in 2020, a National Quarterfinalist for the Grammy Music Educator Award in 2018, and an Ellen Battell Stoeckel Fellow at Yale University in 2011.
In addition to teaching, Pinkall is a soloist and chorister with the Kansas City Chorale, whose albums have received five Grammy awards and nine nominations since 2012. He has worked in production management for the Emmy-winning 2014 Olympic Winter Games Opening Ceremony in Sochi, Russia, the 2016 Olympic Games Opening Ceremony in Rio de Janeiro, Brazil, and the papal mass at the 2015 World Meeting of Families in Philadelphia.
He received his solo Carnegie Hall debut in 2014 with the National Festival Chorus and was a featured soloist at the grand opening of the Kauffman Center for the Performing Arts in 2011, along with Placido Domingo, Itzhak Perlman, Patti LuPone, and others. His solo recitals have premiered many rare works from victims of war at venues around the world, including the National World War II Museum, the National World War I Museum, Eisenhower Presidential Library, the Kennedy Center and Sydney Opera House.
"We are very excited to have Dr. Pinkall as the new director of the School of Music, Theatre and Dance," said Chris Culbertson, interim dean of the College of Arts and Sciences. "He is a remarkable teacher, a very creative person and a Grammy Award-winning soloist and chorister. The school is a crucial component of our arts education on campus and through its many activities and camps serves as an important resource for attracting students to K-State. We are looking forward to the school continuing its great work and exploring new approaches to education and creative activities under Dr. Pinkall's leadership."