June 10, 2022
College of Veterinary Medicine presents scholarships, special awards at annual banquet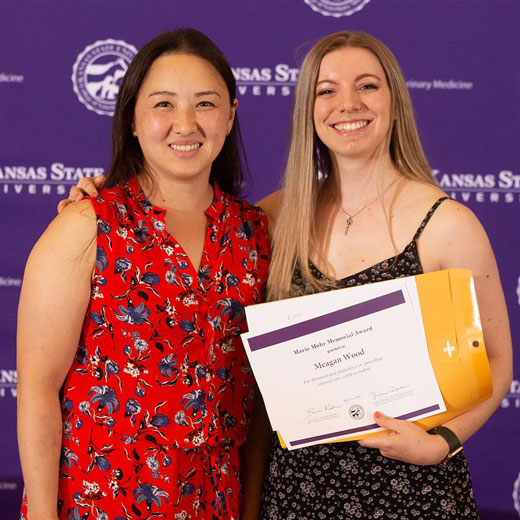 Stephanie Durbin, left, clinical assistant professor, presents the Marie Mohr Memorial Award to Doctor of Veterinary Medicine graduate Meagan Wood at the College of Veterinary Medicine's recent annual senior banquet. Created in 1968, this scholarship is one of the college's oldest.
The Kansas State University College of Veterinary Medicine hosted its 2022 Senior Banquet on May 10 at the Hilton Garden Inn. The college presented approximately $160,000 in scholarships to graduating seniors, with 74 awards presented, some to multiple recipients.

Two groups of students completed the requirements for concurrent certificate programs in addition to their Doctor of Veterinary Medicine degree studies. Nine students were presented with the food animal veterinary certificate and three students with the shelter medicine veterinary certificate. Special awards were also presented during the banquet for distinguished faculty, house officers and staff. The full list of scholarships and awards is posted online.

"This class has survived and thrived through difficult circumstances brought on by the pandemic: hybrid learning, navigating a new learning environment and re-establishing normalcy during the service-learning year of clinical studies," said Bonnie Rush, Hodes family dean of the college. "These students have demonstrated resilience and are ready to begin their careers as veterinarians to serve clients and communities. These scholarships recognize excellence and reward their hard work."

Three members of this year's graduating class were recognized with an appreciation award for their service to the U.S. military: Anna Kucera, Iulia Osipova and Amanda Preczewski.

The Pet Tribute Faculty Award recipient is selected by a vote of the senior class. The award recognizes a faculty member who has distinguished themselves as a compassionate caregiver and health care professional. This year's recipient was Stefanie Durbin, clinical assistant professor.

Two annual faculty awards were also presented at the banquet. Bryan Weaver, clinical associate professor in livestock services, was selected as the recipient of the 2022 Zoetis Distinguished Veterinary Teaching Award. Since 1963, the Zoetis Distinguished Veterinary Teaching Award has been presented at each of the U.S. veterinary colleges to an outstanding teacher who advances the veterinary profession by inspiring students to their highest levels of achievement and professionalism.

The Dr. William and Deanna Pritchard Veterinary Service and Outreach Award was established in 2012 to emphasize the importance of service and outreach in the veterinary profession. Pritchard, who earned his Doctor of Veterinary Medicine at K-State in 1946, was a professor and dean emeritus of the College of Veterinary Medicine at the University of California, Davis. This year's recipient of the Pritchard Award was Gregg Hanzlicek, clinical associate professor of diagnostic medicine and pathobiology and director of outreach and production animal field investigations for the Kansas State Veterinary Diagnostic Laboratory.