June 10, 2022
Honorary veterinary degree bestowed upon animal champion Cheryl Mellenthin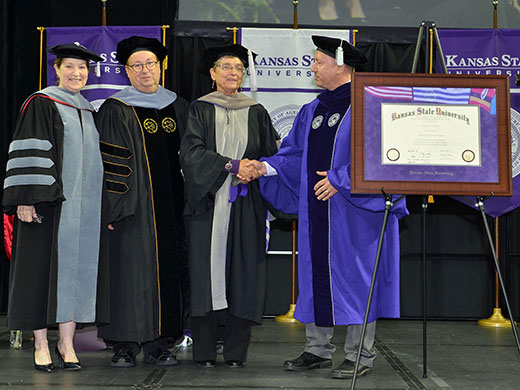 Cheryl Mellenthin, center right, receives congratulations from Kansas State University President Richard Linton, right, after receiving an honorary doctorate in veterinary medicine from the university. Joining them, from left, are the College of Veterinary Medicine's Hodes Family Dean Bonnie Rush and Associate Dean for Academic Programs and Student Success James Roush. Mellenthin is a longtime supporter of the college's shelter medicine program.
The 2022 graduating class of veterinarians from Kansas State University's College of Veterinary Medicine celebrated with a special plus-one at its recent commencement ceremony.

For Cheryl Mellenthin's indelible and enduring passion for animals and her help building educational training programs, the college presented her with an honorary Doctor of Veterinary Medicine on May 13. Mellenthin, who lives in Cat Spring, Texas, is a retired neonatal intensive care unit nurse. Her late husband, Mark Chapman, earned a bachelor's degree from K-State in 1965.

"Cheryl has dedicated her life to animals in need — her first rescue was an apricot miniature poodle abandoned and tethered to a shrub in 1979," said Bonnie Rush, Hodes family dean of the College of Veterinary Medicine. "She has always appreciated her veterinarians and wanted to extend her impact, so she began supporting veterinary training programs. Absent Cheryl Mellenthin, K-State would not have a shelter medicine program or a Clinical Skills Laboratory, which have had an impact on every graduate from the class of 2022."

Richard Linton, K-State president, conferred the degree at the commencement ceremony, citing Mellenthin's service to the profession, support for veterinary student training and commitment to improving the lives of pets.

"I am overwhelmed by this incredible honor from the K-State College of Veterinary Medicine," Mellenthin said. "I would like to give a big thank you to Hodes Family Dean Bonnie Rush. Also, huge thanks need to go to Dr. Brad Crauer and all the veterinary students who traveled with the mobile spay/neuter unit to fix over 32,000 dogs and cats in shelters across the state of Kansas. I can donate a mobile unit, but without the work and initiative of Dr. Crauer and the students, it does no good. It is a joy to work with such a wonderful group of people."

Through Mellenthin's contributions to training programs at K-State and Texas A&M, more than 1,400 veterinary students have participated in shelter medicine, clinical skills, community outreach and disaster response educational initiatives.

"Because of her initiatives, routine medical care and surgical sterilization have been provided for an estimated 90,000 animals," Rush said. "Imagine the number of unwanted pets she has prevented. The number of animals secondarily impacted through enhanced training of veterinarians is immeasurable. Our graduates are more confident and proficient due to her support."

Mellenthin's passion for animals is also evident in her local community. She founded Prevent Unwanted Pets, a nonprofit organization to address the homeless pet population near Houston, nearly 20 years ago.

"She mobilized a network of 90 volunteers and veterinarians to provide care for more than 38,000 pets and counting," said Rush. "She also cares for approximately 70 special needs animals at her home on any given day."

It is the first time the college has presented an honorary degree, which was approved by the Kansas Board of Regents in March.