May 6, 2022
College of Education presents Clark with Michael C. Holen Excellence in Graduate Teaching Award
Submitted by College of Education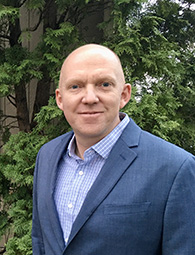 Spencer Clark is the recipient of the Michael C. Holen Excellence in Graduate Teaching Award in the College of Education.

Clark is a professor of curriculum studies, director of the Rural Education Center and program coordinator for the educational doctorate in the curriculum and instruction department. He has taught a variety of graduate courses focused on curriculum theory, educational equity, educational history and research methods.

Clark also publishes work related to his graduate teaching with recent books on the history of civic education and action research methods, as well as journal articles and book chapters on curriculum theory and educational equity. His work with rural schools brings together his teaching and research to address teacher shortages in rural communities to support the land-grant mission at K-State.

"My role in the educational doctorate in curriculum and instruction program benefits my own teaching because I am engaging with graduate students who are current educators conducting research in their classrooms and schools and who are addressing pedagogical challenges in real time to bridge the gap between theory and practice in education," Clark said.