April 25, 2022
K-State Business Innovation Challenge awards more than $10,000 in scholarships to competition winners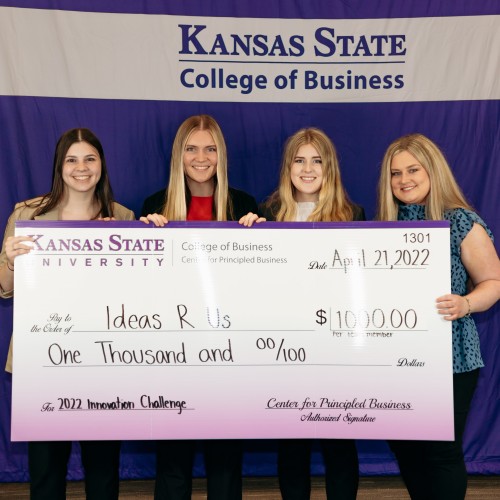 The Center for Principled Business hosted its third annual spring competition with a new format. Students who participated in the K-State Business Innovation Challenge identified a problem or challenge facing the K-State or Manhattan communities, and then developed recommendations to address the challenge.
Students used their creativity and critical thinking skills to develop an innovative product, service, process, or technology. The goal of the challenge is to encourage students to think innovatively about solutions to real-world problems while developing critical thinking, teamwork, and communication skills.
Seven teams advanced to the final round and presented to a panel of K-State alumni industry professionals. This year's judges were Nick Chong, head of Global Support & Services, Zoom; Victor Ojeleye, Business Group FP&A Planning & Reporting manager, Cargill; and Katie Small, industry engagement manager, Kansas State University Innovation Partners.
"The students did an outstanding job of developing a wide range of innovative solutions to challenges they have identified in our community," said Marcia Hornung, director of the Center for Principled Business. "We are proud to offer this learning opportunity and thankful for the investment from alumni, faculty and community members, as well as industry partners who volunteered their time in support of our students."
This year's winners:

First place — Team Ideas R Us, $1,000 per team member, proposed scheduling support within K-State's Learning Management System. Team members are Morgan Waterman, Kristen Medlin, Makenzie Moran and Katie Beien.
Second place — Team Business Cats, $750 per team member, proposed the use of technology to address food insecurity in the community. Team members are Yslam Akmyradov, Hannah Andogan and Colton Muckelbauer.
Third place — Team RNC, $500 per team member, proposed the installation of HEPA-filtered hand dryers in the College of Business Building. Team members are Ryan DeVault, Nate Hassed and Chelsea Phillips.
Honorable mention — four teams, $250 per team member.
• Manhattan Magic, a gathering space on the campus Quad. Team members are Cale Adams, Rachel Etzel, Mitch Flanagan and Blake Turner.

• Team 13, technology use to increase attendance at K-State sports events. Team members are Bryce Ainslie and Tim Dehan.

• The Strategists, a study space reservation system in the College of Business Building. Team members are Ariana Harland, Ben Rost, Meghan Siebenburgen and Grace Vogel.

• Wildcats LLC, a new financial literacy course for K-State students. Team members are Matt Deeds, Mitch Huerter, Jack Loveless and Naomi Pieper.
The Center for Principled Business engages in teaching and research activities that develop business leaders and enhance societal prosperity. The center offers cross-disciplinary research and academic and co-curricular programs for K-State students, high school students and working professionals.