June 1, 2011
Advancing discovery: Nguyen cited for mentoring of undergraduate researchers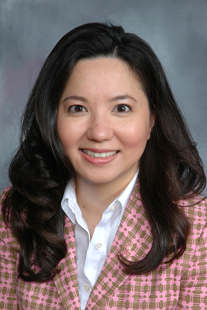 A breast cancer researcher is being honored for her efforts in continuing and encouraging research excellence at K-State.
Thu Annelise Nguyen, assistant professor of diagnostic medicine and pathobiology, is the recipient of the 2011 University Distinguished Faculty Award for the Mentoring of Undergraduate Students in Research, which includes $2,500 and a plaque. The award is based on mentoring performed in the previous academic year.
Nguyen joined K-State in 2001 as a postdoctoral fellow. Her breast cancer research has led to the discovery and patent of a drug that eliminates breast cancer cells. She also mentors several undergraduate students who are directly involved with her research, involving them in the entire process.
"As K-State works toward becoming a top 50 public research university by 2025, our faculty play a key role by encouraging and mentoring undergraduates who want to do research," said April Mason, provost and senior vice president. "Dr. Nguyen's dedication to not only making a place for undergraduates in her lab, but mentoring their efforts as well, help make her one of K-State's truly outstanding faculty members."
"I enjoy working with students very much," Nguyen said. "They get to understand a little bit about the human body and about the impact of the disease."
She started doing research as an undergraduate and believes it's important to pay it forward and that the early exposure in the lab helps better prepare students.
"I have a basic affinity for mentoring students because I was the product of these kind of programs," she said. "I take that chance with students because someone took a chance on me. When I joined graduate school I knew exactly what I was supposed to do and there were no surprises because I was accustomed to it already. I like to expose the students to that kind of environment so they can figure out if this is the path they want before jumping into a graduate program. It's a long commitment, so before they make that decision I expose them to the research environment."
Nguyen earned a bachelor's in molecular and cell biology and a doctorate in toxicology from Texas A&M University.