May 24, 2011
Kearns awarded Hobrock Distinguished Faculty Award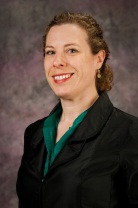 Sara K. Kearns, head of Undergraduate and Community Services Department at K-State Libraries, was selected as the recipient of the 2011 Brice G. Hobrock Distinguished Faculty Award. The award, consisting of a $1,000 gift from the Friends of the K-State Libraries and a listing on a permanent plaque in Hale Library was presented to Kearns at the annual meeting of the Friends on May 18, 2011.
Chosen from a pool of seventeen nominations, Ms. Kearns stood out for her varied collaborations with faculty and students. Ms. Kearns' nominators frequently cited her role in their research success. One wrote, "In a forest of a trillion trees (the web), a Searchologist knows not only where the best trees are, but how to get to them. This is no small feat … She has helped dozens of my students go beyond the Surface Web to find the best sources to produce the best work. She has dealt patiently with each, walking them into the forest and out. With her positive, optimistic, and happy disposition, she shatters what most students think of as a librarian."
Another nominator wrote, "As an undergraduate researcher, Sara has helped me by sharing her knowledge of RefWorks, leading classes on research tools and databases, and being available as to help McNair Scholars. I know that this is just a glimpse of all the things Sara does, but as a student her willingness to help out students has made a tremendous difference in my educational success."
In addition, Ms. Kearns has sought to extend her impact on students with her work on a Ph.D. in Student Affairs in Higher Education. She has been involved with various campus committees focused on the undergraduate experience including the Critical Thinking Task Force, General Education Task Force II, and the K-State 8 Technical Implementation Team.
Ms. Kearns has been part of the K-State Libraries faculty since 2001. She has served as the business librarian, instruction coordinator, and now head of Undergraduate and Community Services Department. She holds a bachelor of arts degree in English from Kansas State University and a masters in library and information science from Catholic University.
The Hobrock Award was established in 2004 by The Friends of the K-State Libraries to honor former Dean Brice Hobrock. The award recognizes outstanding librarianship and superior accomplishments among the Libraries' faculty. Michelle Turvey-Welch, associate professor and head of the Metadata and Preservation Department was the chair of this year's award selection committee.