January 27, 2022
K-State Gardens to host Run for the Roses April 30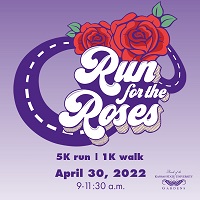 The K-State Gardens will host the first Run for the Roses 1K walk/5K run from 9-11:30 a.m. Saturday, April 30.
Runners will start and finish in the beautiful K-State Gardens, take a lap on the track inside the historic World War 1 Memorial Stadium, and cruise by Anderson Hall, the K-State Student Union and Ahearn Field House. It's a surprisingly flat, fast course where you're sure to set a state record on the USAFT-certified course. The 1K course will follow garden paths and docents will be available for questions, tours, or sharing exciting future plans.
Visit the website for more information. Runners, walkers and sponsors are welcome.
Proceeds from the event will support K-State Garden projects such as the Reflecting Pool, the Conservatory, the 150th anniversary of the K-State Gardens in 2025, etc.