January 10, 2022
'Creating equitable and inclusive workplaces that support employee retention' workshop this Wednesday
Submitted by Student Life Staff Development and Engagement Committee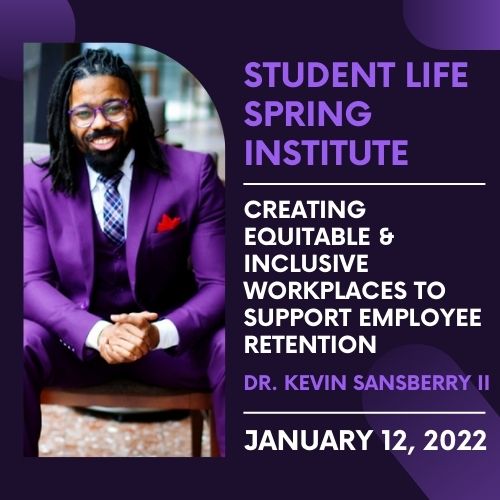 K-State faculty and staff are invited to attend the 2022 Student Life Spring Institute, hosted by the Division of Student Life's Staff Development and Engagement Committee and Truth, Racial Healing, and Transformation Committee. The keynote workshop, facilitated by Kevin Sansberry, will be from 1:30-3:30 p.m Wednesday, Jan. 12, and will focus on creating equitable and inclusive workplaces that support retention of employees.
Sansberry is a behavioral scientist and executive coach whose inspiring work is driven by the need for evidence-based, inclusive and equitable approaches to urgently and proactively transform and coach leaders, eradicating toxic behaviors that threaten profitability, innovation and overall well-being. He is the founder and principal of KEVRA Consulting, a firm that utilizes research-based solutions to address organizational challenges such as inclusion, equity and belonging, HR strategy and leadership coaching and development.
Please RSVP to receive the Zoom meeting link for this virtual event. See the event page in OrgCentral for more information. Sign in using the School Login button and your K-State eID.
Contact SLSDE Committee co-chairs Sara Heiman, sjheiman@k-state.edu, and Marcus Cottrell, cottrellm@k-state.edu, with any questions.