April 3, 2013
G-7 Headhunters fraternity recruitment this week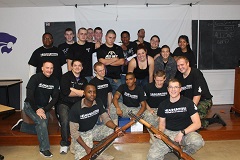 In order to gain new members to carry on the legacy of Kansas State University Headhunters of Company G-7, a formal rush will take place from 6-7 p.m. April 1-6 in Room 11 at Gen. Richard B. Myers Hall. Both men and women are encouraged to attend.
Attire is casual however bring a copy of your class schedule to the rush.
Requirements for membership:
Have a cumulative grade point average of at least 2.0
Be a full-time student during the present and prior term
Completion of candidate process
The purpose of Company G-7 of Pershing Rifles represents a union of some of the best and brightest individuals the university has to offer. Our goal is to develop, to the highest degree possible, outstanding traits of leadership and discipline within our society. Our purpose is to promote unity and friendship among men and women, which include the membership of any full-time Kansas State University student.
For more information contact Amanda Smith at 785-717-8372 or g7pershingrifles@k-state.edu.