April 3, 2013
Season for Nonviolence Conference is April 6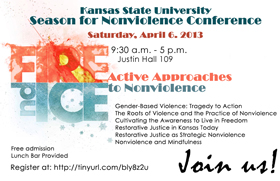 Season for Nonviolence Conference "Fire & Ice: Active Approaches to Nonviolence" will be 9:30 a.m. to 5 p.m. Saturday, April 6, in 109 Justin Hall. Free parking in will be in lots A2, A3 and A5.

Presentations include:
"Gender-Based Violence: Tragedy to Action, Jana's Campaign" by Christie Brungardt and Curt Brungardt

"The Roots of Violence and the Practice of Nonviolence" by Pamela Satterwhite

"Cultivating the Awareness to Live in Freedom" by William Poehner

"Restorative Justice in Kansas Today" by

Michael Kaye and Art Thompson

"Restorative Justice as Strategic Nonviolence" by Rev. Thea Nietfield and Joanne Katz

"Nonviolence and Mindfulness" by Jane Hansen and Palma Holden
Register online to join us. Admission is free and a lunch bar will be provided.