April 27, 2011
Great Plains Idea honors Virginia Moxley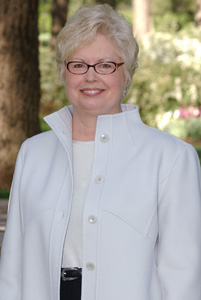 Virginia Moxley, dean of the Kansas State University College of Human Ecology, has been honored with the 2011 Friends of Great Plains Interactive Distance Education Alliance -- or IDEA -- award, created to recognize individuals who have made a significant contribution to the development and/or operation of the program.
"She's been a leader of Great Plains IDEA from its fledgling informal days of colleagues sitting around a table to the present era of numerous programs, widespread impact, formal policies and inclusion of disciplines beyond the human sciences," said Carol A. Gould, executive director of the alliance.
Moxley received the award at the alliance's annual meeting spring meeting in Kansas City, April 14 and 15.
"Dr. Moxley has often helped alliance participants figure out how to do things that had never been done and that some said we could not do," Gould said. "She has vision, she is creative and her passion for higher education strategic alliances is contagious."
The Great Plains IDEA sponsors multi-institutional academic programs. Since its inception in the Great Plains region, it has grown to be a partnership of public research universities that span the nation.