November 8, 2021
Attend George Washington Carver Legacy Innovation and Leadership Awards Symposium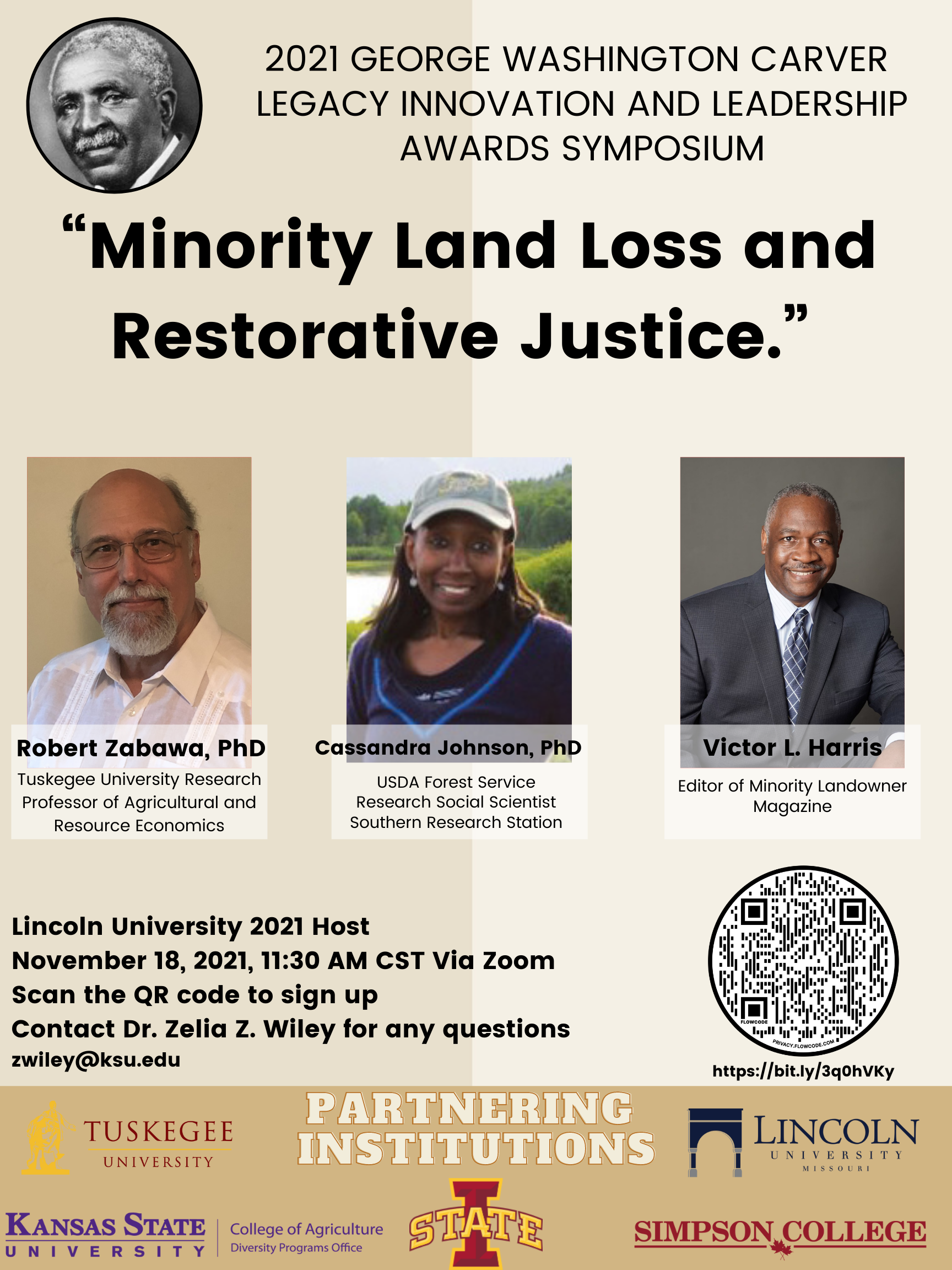 Happy November from the College of Agriculture/K-State Research and Extension Diversity Programs Office.
In conjunction with the 2021 K-State Minorities in Agriculture, Natural Resources, and Related Sciences, or MANRRS, Week Nov. 15-19, the annual Dr. George Washington Carver Legacy Innovation and Leadership Awards Symposium will take place. The K-State College of Agriculture, in partnership with symposium host Lincoln University, Tuskegee University, Iowa State University and Simpson College, invite the public to celebrate Carver's legacy at 11:30 a.m. CST on Nov. 18. The event will be virtual; please register prior to the event.
The Carver symposium will involve a renowned panel speaking on the theme, "Minority Land Loss and Restorative Justice." We will also recognize Sanders Barbee, K-State junior in agricultural economics and K-State MANRRS Chapter current secretary, as a 2021 Dr. George Washington Carver Legacy and Innovation Award recipient at the event. Sanders is a distinguished student as she is highly involved on campus as a DPO peer mentor, K-State Food and Ag Policy fellow, Conservation and Sustainability fellow for Kansas Grain Sorghum, vice president of Cats' Cupboard Ambassadors and a Food Security scholar. We are excited that Sanders will be representing K-State in receiving this distinguished title at the 2021 Dr. George Washington Carver Legacy Innovation and Leadership Awards Symposium on Nov. 18. We hope to see you at the event.
Thank you for your support of our programs and efforts. Please continue to look for more diversity news and events as we continue to advertise and join us throughout the semester. If you require any additional information about these events, please contact Zelia Wiley at  zwiley@k-state.edu or 785-532-5793.